website
Pinnacle Sportsbook Review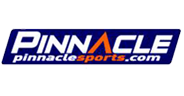 Pinnacle Sports Betting offers the best sports betting odds.
To enjoy Pinnacle simply open an account via this link and make a first deposit.
Pinnacle is truly a sportsbook for the bettor who appreciates the best value on their bets. Bets over bonuses, that is the way to go!
Pinnacle offers juicier odds instead of bonuses

PROS
The best odds in the industry
Huge Betting Limits
Great variety of betting options
No frills experience is great for the avid sports bettor
CONS
Does not accept US Players
No Sign Up Bonus
Pinnacle Sports Review
Pinnacle Sports has been a leader in the sports betting industry since being founded in 1998. The company is licensed by the Government of the Netherlands Antilles and operates on the island of Curacao.
Registering at Pinnacle Sports is no different from any other online sportsbook. Just fill out the online form and make a deposit.
But what makes PinnacleSports.com vastly different from the competition is their commitment to offering truly better odds on all sports. While they've had to cut out enticing sign-up bonuses and promotions to achieve this, Pinnacle Sports now boasts odds that are up to 60% better in value than other sportsbooks. Year round, sports bettors can take advantage of this reduced margin model on football, baseball, basketball, hockey and soccer bets whether they just opened their account or have been betting at Pinnacle Sports for years.
Instead of the industry norm of -110 on pointspread and game total bets for football, Pinnacle Sports offers -104 odds on the pointspread and -105 on the game total. For basketball and hockey, they offer -105 odds on both pointspread and game totals. If you are a fan of baseball betting, you will find MLB win bets priced to -103 and run lines to -104. It doesn't matter the sport, Pinnacle offers the best odds on the internet.
This low margin model also extends to their live "in-play" betting. Bettors at Pinnacle Sports have the opportunity to have live betting action on MLB, NBA, NFL, NCAA, ATP and WTA Tennis as well as an extensive selection of soccer matches from leagues around the globe.
Pinnacle Sports pride their business on catering to their bettors. Their award winning email support team is available 24 hours a day, seven days a week. Unlike many sportsbooks, Pinnacle Sports customer service won't wait 24 hours to answer inquiries and often send email replies within minutes.
The website at Pinnacle Sports is as easy as any website to navigate and find odds. Pointspreads, game totals and moneylines are available directly from their home page. Just click the sport and the current odds will be listed.
Making a deposit or withdrawal is simple, secure and fast. Pinnacle Sports offer 17 options for funding account, and bettors are entitled to one free payout every month by one of 11 different withdrawal choices.
Old review
Located in Curacao and licensed by the Netherlands Antilles Gaming Commission, Pinnacle Sports has been a go-to online sportsbook since 1998. They offer sports bettors better odds-up to 60% better.
Their Web site is secure and stable. We've yet to see it offline. Pinnacle Sports uses 128-bit encryption with firewalls. They are committed to keeping your personal information safe.
It's possible to get confused when first visiting Pinnacle Sports' Web site. That's because it's so clean and user-friendly. In today's world of online sportsbooks, it's extremely common to be bombarded with flash ads and pointless graphical design. As we like to say, their site just works.
It's important to point out that Pinnacle Sports does not accept U.S. residents.
The customer support from Pinnacle Sports is generally reliable. Through extensive research the only complaints we've found have been some phone support issues. However, every major organization has these. Many people are hired to staff the call center, but not everyone will do their job. Typically, these people are let go in time.
Since we're talking about a global sports betting community, language is important. Pinnacle Sports supports the following languages: English, Spanish, Dutch, French, Italian, German, Russian, Portuguese, Chinese, Arabic, Finnish, Hebrew, Japanese, Swedish, and Thai. That's a lot of languages.
Pinnacle Sports offers both reduced juice lines and incredibly low minimum bets-just $1. Try walking into a Las Vegas sportsbook and playing a side for just one dollar. It's not happening.
They also make it easy for their sports bettors to be informed. Pinnacle Sports provides a complete news and stats site for all action-NFL, NCAA football, MLB, soccer, tennis, NBA, NCAA basketball, and NHL.
Pinnacle Sports Bonuses
New Account: Pinnacle Sports offers a 10% cash bonus on all new accounts. The maximum bonus is $500. This bonus applies to deposits made via cashiers check, credit/debit card, InstaDebit, Moneybookers, NETteller, Western Union, myCitadel or bank wire.
Reload Bonus: Reload bonuses appear to be nonexistent. Check the site when you need to reload.
Racebook Bonus: Their rebate program pays 5% daily on all Win, Place and Show wagers and 7% on all exotic wagers-except for wagers at Saratoga, Belmont or Aqueduct, which are paid 5%. Wagers of any size qualify for the horse racing bonus.
Casino Bonus: Pinnacle Sports offers an instant 0.3% cash back bonus on just about any casino action. The exceptions are any double down wagers in Video Poker.
60% Better Odds: This is why so many sports bettors turn to Pinnacle Sports. They always offer sports betting odds that are up to 60% better than your typical Las Vegas sports book, local bookie or favorite offshore sportsbetting site.
Signup with Pinnacle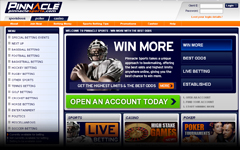 Pinnacle rating
Rating :
6.4
Pinnacle Customer Service
1-800-439-5197
Pinnacle Sports Worldwide
In the Holiday Beach Hotel and Casino Bld
Pater Euwensweg 31
Willemstad, Curacao
Netherlands Antilles