website
Sportbet Review

Established in 1997, Sportbet is the sister site of the more widely known Sportbet Sportsbook. As you can read from their testimonials on their site from players and recognized industry insiders, Sportbet is a must have account for any sports bettor.
In just a couple of minutes the team at Sportbet can have you up and running with their new player reward program. First deposit from $100.00 and up to $400.00 receive a 50% bonus, amounts from $401.00 and up to $2,500.00 receive 20%.
Get Up to 50% On Your First Deposit!
PROS
Backed by the reputable Sportbet Sportsbook
Live Chat is available 24/7/365
Sportsbook, Casino, Racebook and Poker Room
CONS
High minimum deposit ($100) to be eligible for bonus
Processing Fees on some withdrawal options
Sportbet.com Sportsbook Review
Founded more than 15 years ago, Sportbet is a widely respected online sportsbook under the Sportbet group of companies. Whether you are primarily a sports bettor, or betting in the Racebook is more of your bag, Sportbet's gaming variety never ceases to impress us.
Getting started at Sportbet involves you answering a few questions and then loading your account which has never been easier. New players are eligible for a total bonus of 50% when you deposit $100 and up to $400. If you are looking to start off bigger, a minimum deposit from $401 and up to $2,500 gets you a 20% bonus.
When playing at Sportbet you can rest assured that your money and personal information is safe. Whether you are getting money into your account, or out, Sportbet has a variety of convenient payment methods to choose from. You can request a payout 24 hours a day and payouts via check are sent within 3-5 business days.
You can get started with a variety of payment options and while most payouts take 24/48 to be processed, some of them have their special schedules. If you ever need to get a hold of Sportbet's Customer Service Team, you can reach them toll-free at 1-800-430-5896 or via the sportsbook's Live Chat.
If you ever need to get a hold of Sportbet's Customer Service Team, you can reach them toll-free at 1-800-430-5896, via e-mail at [email protected], and Live Chat.
In a world where we have almost just as many sportsbooks as we do sports bettors, it's important to choose a book that has a long standing reputation and backed by a company you can trust. If you are serious about betting, then you should seriously consider Sportbet!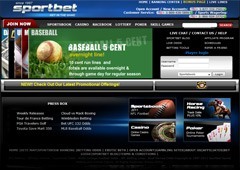 Sportbet rating
Rating :
6.8