website
JustBET Sportsbook Review
JustBet offers a 100% signup bonus on new funded accounts using the link below. JustBet's maximum bonus is at management's discretion so feel free to get in touch with their customer service and say that you heard about this special bonus through AdvantageSportsBetting.com!
How to receive JustBet bonus :
2

Make a deposit of $100 or more

3

Collect your bonus
Free play wagers are for straight bets only with a 8 times rollover.
100% bonus, up to $500!

PROS
100% Sign Up Bonus up to $500
Taking bets since 1996!
All-in-one sportsbook - one stop shop
Great customer service
Licensed and operated in Costa Rica
CONS
no cons - we love this sportsbook!
JustBET.com Review
The JustBet sportsbook was founded in 1996 out of San Jose, Costa Rica. They've made their name over recent years as a sportsbook for the serious bettor. If you are looking for a combination of high deposit limits and competitive lines posted early, JustBet is the sportsbook for you.
Signing up with JustBet is very simple and 1 player account allows you access to their Sportsbook, Casino and Racebook. For mobile users, JustBet also offers a mobile version of their sportsbook that you can access from you handheld device. New JustBet players are eligible for up to 155% in bonuses. The bonus amount varies according to deposit amount; please see our Sportsbook Bonus section for details.
As previously mentioned, JustBet is an ideal sportsbook for serious bettors as they pride themselves on posting their lines early with a wide variety of wagers to bet from. From parlay bets to "if" bets to "reverse action" bets, JustBet has a line that is right for you!
JustBet currently offers Live Betting only for big events such as the Super Bowl, but you will not find Live Betting offered for a regular season NFL Sunday. We've been told JustBet is in the process of offering Live Betting for more events in the near future.
The Customer Service Team at JustBet is very knowledgeable and you can contact them via telephone, e-mail and chat. Chat services are available 24/7 which is a great perk for the impatient bettor.
JustBet's website is very easy to navigate and it only takes a few seconds to familiarize yourself with each page. At JustBet it is very easy to place your wagers, view wager history, check account balance and view pending wagers which makes betting on your favorite games a lot more manageable. In addition to offering an easy to use website, JustBet also employs the latest in Internet Security on their website ensuring that all your personal details are handled in a safe and professional manner. Prior to placing a wager you are asked to verify your password which makes betting at JustBet very safe.
The JustBet sportsbook has many deposit and withdrawal options to choose from for both US and Non-US residents. Most of the payment options are instantly credited into your player account. From many different e-wallet methods to credit card depositing, funding your player account at JustBet is a synch.
All in all the JustBet Sportsbook is a great place to lay your bets down for the serious bettor who is looking to deposit in high limits and looking for a wide array of early posted betting lines.
Old review
JustBet first opened its doors to the sports betting public in 1996. They strive to be an all-in-one online sportsbook, which is why their Web site proudly states that they're the "one stop shop" for Internet gaming.
Their Web site has an interesting feature. You can chat with leading industry sports handicappers. This will no doubt help one gain some extra knowledge before placing a sports wager.
Their customer service is good as well. They offer online chat, email and telephone support. JustBet has both a 1-800 number and a local phone line. Their call center opens at 8:30 a.m. PST everyday and closes after the start of the last game of the day. During the football season, they get started at 5 a.m. on Saturday and Sunday.
JustBet takes deposits through all the expected methods-Click 2 Pay, Visa, Mastercard, Western Union, Neteller, MoneyBookers, and checking account. Payouts are processed via most of these same methods. The section "Money Matters" on their Web site fully explains all the methods, limits and so forth.
We liked the somewhat clean layout of the Web site as well. It was easy for us to quickly see the current lines being offered along with a complete sports schedule that included TV notations.
An excellent feature of JustBet is the stats section. They offer comprehensive stats and a quick sheet called "supergrid." We looked at the supergrid for an NFL game and it showed quality stats, such as team rankings, passing, rushing, penalties, turnovers, special teams, scoring, and overall.
The Trifecta combination of the supergrid, matchup and preview for each game makes JustBet a great source of information. There's definitely no reason to make an uninformed wager at JustBet.
JustBET Bonuses
While some sportsbooks offer 10% signup bonuses, JustBet offers a meaty 45% bonus. Just sign up, deposit some cash and your account will receive a bonus equal to 45% of your initial deposit.
JustBet also gives out a 15% bonus on every deposit after your initial one. It's nice to get free cash every time a deposit is made.
They also have a promotion that will allow you to get back 10% of your losses over the past six months. It's a recurring promotion and accounts are credited every six months. Check their Web site to see qualification requirements.
And as you might expect from any solid online sportsbook, JustBet has seasonal promotions. For instance, for college football they had their $200,000 Bowl Contest. These special contests and promotions are what make JustBet a great online sportsbook.
Signup with JustBet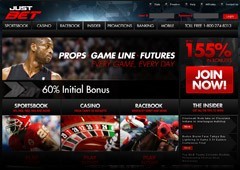 Just Bet rating
Rating :
8.1
Just Bet Customer Service
1-800-274-8313
San Jose, Costa Rica
Just Bet Payment Methods