website
Sportsbook.com Review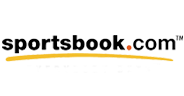 There are few sports betting sites as well known as the famous Sportsbook.com, and with a web address like that, it's no surprise! Bettors have come to know Sportsbook.com as a proper full range sportsbook, offering odds on just about every sport and league in the US.
And for bettors who dabble in horses, like to try the luck in the casino or even enjoy a game of Texas Hold'em every now and again, Sportsbook.com has even the most avid gamer covered.
25% Bonus, up to $250 on 1st Deposit

PROS
A name and brand you can trust
Wide variety of odds and betting options
Constantly updated promotional offers
Easy-to-navigate website
CONS
excessive rollover requirements on their sign-up bonus
customer service could be better
Sportsbook.com Betting Site Review
One of the best known sports betting sites on the web, Sportsbook.com has been servicing the needs of sports bettors since 1996. After a few years of reportedly questionable service in the mid nineties, in Sportsbook.com has steadily improved the quality of its customer service, betting options and payout time-frames, helping it achieve it's currently stellar reputation as a leader in the industry.
As with all things at Sportsbook.com, signing up is quite quick an easy. One would expect that they make this process as easy as possible to get you through the door, depositing, and betting in the least time possible.
It is worth confirming that Sportsbook.com offers the usual wide range of sports to bet on, ranging from the usual pro sports like NFL, NBA, MLB and NHL, to college sports like NCAA Football and College Basketball, to darts and Nascar and even a wide variety of weird and naughty celebrity prop bets.
Although Sportsbook.com offers a proper betting platform to suit most of your needs, if you're looking for a proper Live Betting option, we recommend you look elsewhere.
Customer Service at Sportsbook.com, while not having always been the best in the west, is widely regarded to be industry standard today. Players can rely on Live Chat, rapid answer email and also the usual toll-free telephone service. If you have any issues that you need help with, you can reach Sportsbook.com 's client service team by dialing 1-800-632-6088.
As for the Sportsbook.com's website and betting interface, it is perfectly adequate to the average user, and makes placing a bet easy and fairly fool proof. But as most sports bettors in the US will note, and as been our experience, the real battle whenever you're trying to bet online is getting the money into your account. Thankfully, Sportbook.com boast numerous deposit and payment methods, and have many different ways of ensuring they can help you through this sometimes frustrating process.
Overall, we give two thumbs up on user experience at Sportsbook.com and recommend the site whole heartedly to anyone looking for a solid online sportsbook to bet with.
Old review
Sportsbook.com Promotions
Sportsbook.com is where "everybody bets™"
They are owned and operated by Jassy Sports Events Limited, which is located in Malta.
According to their Web site "millions of adult Americans" enjoy wagering on sports, poker, and other casino games. They've been in operation online since 1996.
Sportsbook.com is fully licensed by the government of the Netherlands Antilles on the island of Curacao. They are one of the upper-level online sportsbooks in the online gaming world.
They claim to be serious about making you secure and happy and their accolades prove it. In 2005, Sportsbook.com was named the "Best US Sports Book" by eGaming Review, which is a solid publication in the industry. Not content to rest on their laurels, Sportsbook.com went out and received the award again in 2006.
As their Web site states, their products have been featured on media outlets such as CBS 60 Minutes, CNN, ESPN, Barrons, Wall Street Journal, Financial Times, USA Today and every major newspaper in the USA. Sportsbook.com, at its peak, receives an estimated 15 wagers per second. That's serious online gaming.
We'd be remiss if we didn't talk about the great bonuses and promotions Sportsbook.com offers. They appreciate their players and reward them aptly.
First up is the customary free cash bonus upon deposit. It's fairly straightforward. Make your deposit and Sportsbook.com will give you a cash bonus equal to 10% of that deposit. Their free cash limit is $500, so you can get a bonus with all deposits up to $5,000.
Here's a listing of some of the sports betting promotions Sportsbook.com offers:
$100,000 Perfect Parlay - Select the NFL winners against the spread for the week and have a shot at some serious cash.
NCAA No-Juice - Every Saturday Sportsbook.com selects an NCAA Football game that has no juice.
Reduced Juice Fridays - Selected games on Friday have reduced juice.
Mystery Locker Promotion - This one is simple. Win a football wager and you're entered to win serious prizes.
NFL Spread Supremacy - Bet on a double-digit favorite and get paid 50% more if they win by double the spread or more.
$100,000 13-Team College Bowl Challenge - Select your lucky football teams, make the $25 wager and be in line for a $100,000 payday.
NBA Man on Fire - If a player on your NBA pick catches fire and scores more points, you get paid more money.
Overtime Blues - A great twist and stress reliever on OT in the NBA.
Sportsbook.com has many more sports-related promotions. We like all that they do for sports bettors.
Signup with Sportsbook.com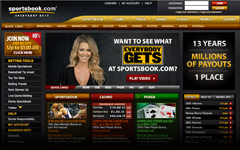 Sportsbook.com rating
Rating :
8.8
Sportsbook.com Customer Service
1-800-632-6088
Sportsbook.com address is kept private
Sportsbook.com Payment Methods