website
BetOnline Review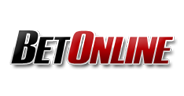 Prompt payouts and topnotch customer support are what make BetOnline one of the most preferred online sportsbooks of new and veteran gamers alike. An old-timer in the industry, having been in this business since 1991, BetOnline never fails to draw new customers and keep its regulars by offering great odds and the latest statistics in wagering trends.
BetOnline is ready to match or exceed the sign up bonus of any B+ rated sportsbook. Minimum deposit amount is $100 with a maximum bonus amount of $1000 for new customers.
25% Sign Up Bonus + 25% Reload

PROS
Will match or exceed competing sportsbooks' sign-up bonus
24/7 online or live customer support
Up to 45% reload bonus
CONS
Limited choice of deposit and payment methods
Deposit limits on new players
Limited withdrawal processing times
BetOnline.com Sportsbook Review
Its online operation is based in Panama, but BetOnline has been in the online gaming industry since 1991. Its meteoric rise in popularity among USA bettors can be attributed to a number of factors including excellent customer service, high parlay odds and inventive bonus programs.
BetOnline makes signing up for a new account easy. Bettors can easily sign up online at their website and receive an interesting bonus. BetOnline will match or beat other sportsbooks' sign-up bonuses with a minimum deposit of $100. Their reload bonus is tiered, reaching as much as 45% of the deposit amount.
The odds at BetOnline are competitive and elicit delightful feedback from their players. Bettors have the convenience of placing bets online or by telephone 24 hours a day, seven days a week. However, they have only the conventional betting options, and this is one drawback for avid bettors that seek higher levels of excitement that can be had with live betting.
Customer service at BetOnline is superb and availability is 24/7 via email, phone or live chat. Their agents are friendly and courteous, making communication with them a productive and pleasant experience. Management makes sure their support staff undergoes training, and periodic checks are made through phone and email.
BetOnline's website is easy to use and loads fast. The information posted is always up to date, and the technology used is state-of-the-art. Player security and confidentiality is a top priority at BetOnline, and protection is assured with constant software system checks and balances. Thus, it will not divulge player information to other parties.
Payment methods are not as varied as other sportsbooks but they accept major credit cards and money transfers, so this shouldn't pose a problem. Maximum deposit amounts are approved through a series of stairs starting with $100 and increasing to $200 after the first deposit. Deposit limits subsequently increase by $250 after each successful deposit.
Withdrawal requests can be made at anytime, but are only processed Monday through Friday between the hours of 9:00 am ET and 1:00 pm ET.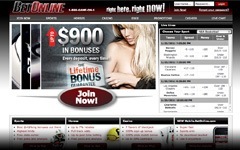 BetOnline rating
Rating :
9.1
BetOnline Customer Service
1-800-977-4717
1-800-453-0804
Panama City, Panama
BetOnline Payment Methods