website
Bookmaker Sportsbook Review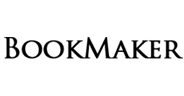 Signup for a new account at Bookmaker Sportsbook with a $300 deposit and you will get a free play bonus of 20% for 5 times rollover or 10% for 3 times rollover.
There's no maximum daily wager required, a $500 maximum bonus and no transactions fee on $300 deposits and up. Credit cards deposits are not now elligible for bonus.
Signup using bonus code "ASB" to make sure you receive Bookmaker signup bonus.
15% Bonus + 20% Re-Deposit Bonus

PROS
Stellar reputation and record
High betting limits
Early lines and overnight odds
Easy deposits ? quick payouts
CONS
Modest bonuses and promos
Payment processing
Bookmaker.com Review
As BookMaker's slogan says, it is "Where the Line Originates." Most online sportsbooks won't release their lines until after the oddsmakers at BookMaker. In the sports betting industry since 1985, BookMaker's internet operation is based in San Jose, Costa Rico. They take their customers privacy as serious as their odds and see it as their professional obligation to keep their customers' information private.
BookMaker makes the sign-up process as simple as can be. Bettors simply sign up at BookMaker's website and deposit funds into their account. The generous bonus offers are instantly credited to accounts after the funds are deposited. After fulfilling the rollover requirements, all bonuses are available and a payout can be requested.
Since BookMaker releases their lines before any other sportsbook, bettors have the opportunity to lock in with early odds before the smart money comes in and moves the line. Whether it is the NFL, MLB, NCAA football or basketball, or any other sport worldwide, bettors not only have the opportunity to place bets early, but also enjoy Live Betting.
The customer service team at BookMaker doesn't take a backseat to anyone. Whether it is by email, over the phone or by live chat, every question is answered quickly and professionally. BookMaker is also thankful for their customers patronage and has a loyalty program to prove as much. At BookMaker, bettors receive BetPoints with every wager they make. BetPoints can be redeemed for cash, gift cards, BookMaker apparel and more.
BookMaker's website is easy to use and provides all the odds and pointspreads for every sport with a few clicks of the mouse. But the benefit doesn't stop at their website. They also offer mobile betting on a website that is compatible on smart phones such as Blackberry, Android and iPhones. Bettors at BookMaker have the luxury of placing their bets in the comfort of their home or the capabilities of placing sports bets anywhere they have a cell phone signal.
Funding and payout requests are just as simple as placing wagers. BookMaker offers over 50 depositing options. Customers receive one free payout request per month by one of BookMakers nine withdrawal options.
Old review
When you think about what makes up a good online sportsbook, what features come to mind? Perhaps security, wager size, payout speed and reputation?
BookMaker, which is a product of BetCRIS.com, can satisfy the needs of both the casual bettor and the big-time player. They'll book wagers up to $5,000 via their online sportsbook and $20,000 via the phone.
Security is the name of the game. BetCRIS.com has been earning their distinguished reputation for over 21 years. When you make a wager at BookMaker, it's rock-solid secure. And that's just one reason why they are respected throughout the gaming industry.
Are you a sports bettor in the United States? BookMaker gladly services U.S. players. Your money will be secure and so will your privacy.
Don't risk your money by betting anywhere else. BookMaker, via BetCRIS.com, has been recognized in major media publications, such as The New York Times, The Washington Times and others.
When you're ready to cash out, do you want your money now or in a week? BookMaker will process your payment fast. Look, it's your money. Why let someone else keep it until they are good and ready to give it to you? Leave all that behind?place your wagers at BookMaker.
BookMaker has all the usual suspects - baseball, basketball, football, hockey, horse racing, boxing, soccer, rugby, motor racing, martial arts and so forth. They even take wagers on politics and entertainment issues.
This is definitely one online sportsbook that belongs in your sports betting arsenal. As you might expect from a top-quality sportsbook, BookMaker has teasers, prop bets, contests, parlays, special bets, exotics, half-time lines, quarter lines and just about anything else you can think of.
You can wager with BookMaker.com from anywhere in the world. Place your bets via Internet browser, cell phone, PDA, landline or other wireless device - 24/7.
Get started by scoring some free cash. Right now you can get a 20% bonus - in cash - by clicking over to BookMaker Sportsbook now !
Bookmaker.com Racebook
The next best thing to being at the track is being able to quickly bet anything you want at BookMaker's Racebook.
There's really an advantage to be had. Bettors in a typical Vegas racebook setting are somewhat limited to whatever tracks they can see and how much information they can process.
BookMaker's Racebook takes betting on over 80 horse racing tracks and all the information is on your screen. They have weekly rebate offers and you don't have to be a big player to get them.
The racebook offers you great information on jockeys, trainers, scratches and so forth.
When you bet on the horses at BookMaker's racebook, it's a quick click and done process. There's no waiting in line, which causes some brick and mortar bettors to miss out on wagers - and cash winnings. Your bet is placed instantly.
In today's online betting world, security is a concern. That's why BookMaker Racebook is the perfect solution.
BookMaker is respected around the industry. They are known for their customer service, great user interface and "give me my money now" - type payouts. You'd be hard-pressed to find something to complain about when using the BookMaker's Racebook.
How about reliable betting? Did you know that sometimes ticket errors are made in traditional racebooks? That's right. When you make a wager, you better triple-check your ticket. There's nothing worse than going up to the counter to cash in a winner and being told that your ticket is a loser. BookMaker's industrial-strength horse betting software won't make those errors.
Whether you're a hardcore horse racing better or the occasional horse racing fan that likes a little action now and then, BookMaker Racebook will work for you every time.
Don't miss another horse racing wager and winner. Get a 20% signup bonus - that's FREE cash - by checking out the BookMaker's Racebook right now!
Bookmaker.com Casino
While it might not have the cheesy lounge act, BookMaker's casino is a great Vegas alternative. If it had a cocktail waitress that came to your home, it would be perfect.
BookMaker Casino features more than 80 casino games. Don't like downloading software? Want to play on your "work break?" BookMaker has you covered. Their casino offers many Flash casino games. Simply use any browser to play and win money.
Are you located in the United States? BookMaker accepts all U.S. players! Don't risk your hard-earned money by playing at some shifty fly-by-night online casino, just because they take U.S. players. BookMaker is flat out the best option.
Casino Player Magazine, which is highly respected in the industry, selected BookMaker.com as the absolute best provider of customer service and casino promotions in the entire industry.
Just want to relax? BookMaker Casino offers free-to-play games. Head on over there and take a load off. Whenever you're ready to increase your bank account, you can switch to playing for and winning real cash.
Want to explore a little? Check out BookMaker's Casino School. This school will teach you how to play any game you want-Blackjack, Caribbean Stud Poker, Tri-Card Poker, Craps, Roulette, Let'em Ride, Pai Gow Poker, Slot Machines and more.
BookMaker Casino has a reputation for treating its players right. They'll assist you anytime day or night and they'll process your payouts fast. Call up their customer service day or night and see if you can get the phone to ring more than once. After that, send them an email and see how long it takes for a response. Their policy is to answer all emails in under 15 minutes.
Licensed in multiple countries, BookMaker is the model for what an online casino should be.
Get started right by clicking over to BookMaker Casino right now. When you do, you'll get a 20% signup bonus. Start enjoying yourself and winning with BookMaker right now.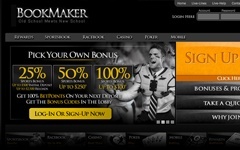 Bookmaker rating
Rating :
8.5
Bookmaker Customer Service
1-800-290-7951
San Jose, Costa Rica
Bookmaker Payment Methods