Warriors vs. Cavs Free Betting Tips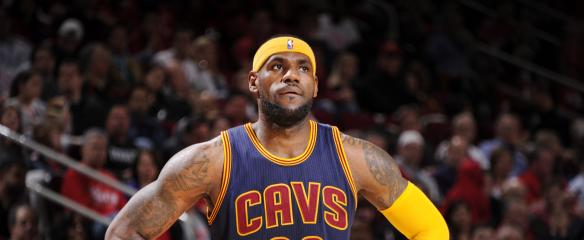 Who should you back, the Warriors or the Cavs?
After trading championships the last two years, Cleveland and Golden State finally meet again to settle the score. Round three between the two was inevitable, as both waltzed into the NBA Finals. The Warriors followed a 73-win campaign by only going 67-15 and becoming the first team to reach the finals with an unblemished 12-0 mark in the postseason. The Cavs didn't lag far behind, losing just once in the playoffs.
In simple terms, this series pits the best team in the league — one that's racked up the most wins in NBA history during a three-year span — against the best player on the planet, one who just set the all-time postseason mark for points scored.
For all of LeBron James' greatness, this may be the biggest challenge of his career yet. Coming down from 3-1 was almost impossible, little less beating that same team plus Kevin Durant in a seven-game series this time around. Durant's presence in the rubber match has given Golden State -270 odds to win the series, whereas the reigning champions are +230 underdogs.
During last year's NBA Finals, Cleveland could afford to leave Harrison Barnes open on the perimeter. They can't do that anymore with Durant, who will likely be guarded by James most of the series. These two have a long history together, including a 2012 NBA Finals battle in both's former teams. Thus far, James has gotten the upper hand, topping Durant 18 out of 23 head-to-head games.
Both James and Durant are stealing the spotlight, but Steph Curry, the back-to-back MVP, is quietly having a monster postseason. Curry is averaging 29.8 points on 50.2 percent shooting from the field — and 43.1 percent from three-point range. Make no mistake about it, Curry is out for revenge. He's struggled the past two NBA Finals, and was hobbled by injury in last year's collapse. He's taken a backseat to Durant all-year long and this could be his chance to shine.
Curry draws a pivotal matchup against Kyrie Irving, who has proven the moment is never too big for him. He followed his Game 7 dagger last year with another game-winner against the Dubs on Christmas Day. Irving was the key to Cleveland's turnaround last year, as he averaged 30 points and shot 52.3 percent from the field in the series final three games. The Cavaliers will need a similar performance from Irving, who is the team's sidekick to James.
After those four players, the question becomes which third star shines the most? Klay Thompson? He's sleepwalked through the entire playoffs thus far. The Splash brother is averaging playoff career-lows in points (14.4 per game) and shooting (38.3 percent from the field).  Twelve games into this slump, Thompson's struggles feel more like a trend than a weird funk.
Perhaps Kevin Love? He played awful in last year's matchup, averaging 7.3 points and 5.9 rebounds per game — numbers that were only overshadowed because of his lockdown defense on Curry in the waning moments of Game 7. Then again, he is coming off a 22.6 points (with a red-hot 53.5 percent shooting from beyond the arc) and 12.4 rebounds per game in the Eastern Conference Finals.
What about the two engines down low, Draymond Green or Tristan Thompson? Green is an unmatched defender, and has proven to get the hot hand in big moments, like last year's Game 7. Meanwhile, Thompson has the size to expose Golden State's lack of size. Thompson is a second-chance opportunity machine, evident by his 4.3 offensive rebounds per game this postseason.
Any way you break it down, this one promises to be a close one. Neither team has a big advantage over the other, whether that's by position, bench, or head coach.
However, there's something about LeBron that makes it tough to bet against him. There's seven All-Star selections in this battle, but James is a one-of-a-kind talent that makes that small difference to decide this series.
Pick: Cleveland (+230)
Series outcome: Six games