McGregor vs. Mayweather Prop Bets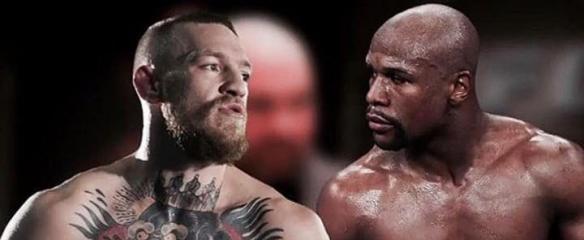 We're now under a month away from what may turn out to be one of the biggest sporting events of our lifetime as Floyd Mayweather and Conor McGregor collide.
Call the fight what you want — a circus, a money-grab, or even a competitive battle — but either way, it's a must-bet event. You can literally sift through prop bets endlessly, however, we'll save you the time and offer you the four best bets to wager on: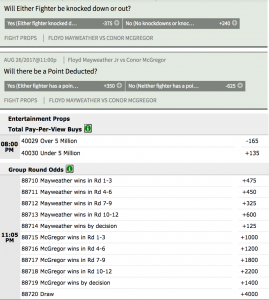 Will there be a point deducted?
You can cut the tension between these two with a knife. Both have a strong case for greatest of all-time in their respective sport, so naturally, there's going to be a clash of egos. That bitterness could very well spill over in the actual fight.
We're not worried about Mayweather losing his cool — he's as calm as they come in the squared circle. But we can't say the same about McGregor.
The thing about the Irishman is he's such a wildcard. He's never boxed before, so what if his natural instincts flare and he throws a kick? What happens when Mayweather frustrates him with untouchable defense like he's done to boxers throughout his career? McGregor is a loose cannon waiting to go off.
Pick: Yes (+350)
Will either fighter be knocked down?
"I'm going to knock him out inside four rounds, mark my words," McGregor has famously quipped in the buildup to this fight.
He says it with such conviction that you really believe him, too. But that's nothing more than McGregor's promotion expertise at play. For all of his fighting skills, McGregor's mouth has made him the biggest box office draw in MMA history.
While McGregor does have knockout power — he's won all but three of his MMA fights via ref stoppage — he'll struggle to land those haymakers against the slippery Mayweather, whose defensive abilities are second to none.
As for Mayweather dropping McGregor, we don't see it happening either. He's played it safe his entire career and isn't about to go for a knockout blow at 40 years old, no matter how novice McGregor is. Mayweather will stick to the script and attempt to win on the judges' scorecard.
Pick: No (+240)
Over/under 5 million pay-per-view buys?
The all-time pay-per-view record is 4.6 million buys set by Mayweather and Manny Pacquiao two years ago. That fight had years worth of build up and many actually believed Pacquiao could defeat Mayweather.
Neither is the case in this battle. But even then, you can't help but feel McGregor's star power. He brings a different fan base — one inside the MMA world — and swagger to him. Does anyone remember the press conferences between Pacquiao and Mayweather? We sure don't. But the war of words we saw during McGregor and Mayweather's four-city world tour made headlines across the globe.
August 26th is about to be a day where the world will stand still and come together to watch this historic fight.
Pick: Over (-165)
Group round odds?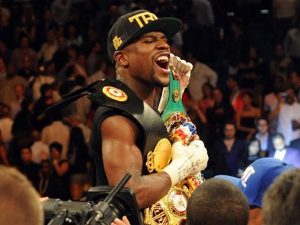 You got to give it to McGregor. He's really convinced the public that his size, youth, and unorthodox style give him an advantage over an undefeated boxer.
But really think about that. Mayweather has dominated his sport for two decades. His victories read like a whose-who of boxing greats — including Oscar De La Hoya, Shane Mosley, Canelo Alvarez, and more. You really think a guy with zero experience in that sport can outbox one of the greatest ever?
This will be an easy Mayweather triumph, and one by decision. Power has never been Mayweather's calling card and it's not about to be in his 50th fight.
Pick: Mayweather wins by decision (+125)