Best Topbet NFL Prop Bets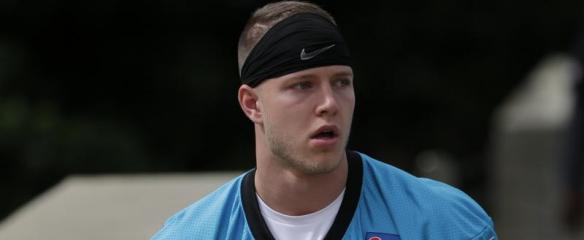 Mouthwatering NFL Props
At first glance, it might be overwhelming sifting through the NFL regular season prop bets. There's a ton, ranging from division winners to league leaders in a certain statistic. But hey, that's why we're here. We've picked out five of the best wagers Topbet is currently offering:
Most Receiving Yards
No player has caught more passes in their first three seasons than Beckham. Those targets won't be stopping in year four. Not even close.
The Giants had the fourth-worst running attack in 2016 and it won't be any better this season. Their running-back-by-committee — featuring subpar runners Paul Perkins, Orleans Darkwa, and rookie Wayne Gallman — isn't scaring anyone.
That means a heavy dose of OBJ is on the horizon. New York also added grizzled veteran Brandon Marshall over the offseason. That should take some attention off Beckham and open the door for copious amounts of receiving yards.
Pick: Odell Beckham Jr. (+650)
NFC South Division Winner
Many are high on the Buccaneers to take the next step this year, except sportsbooks. Topbet and most other books have Tampa Bay as a distant third to Atlanta and Carolina as the NFC South champions. We're not as convinced.
Now in year three, it's boom or bust for Jameis Winston. That's enough pressure to wilt most quarterbacks, but not Winston. He's had the cameras on him since he was 19 years old (including this offseason during HBO's Hard Knocks) and he thrives in pressure-cooker situations.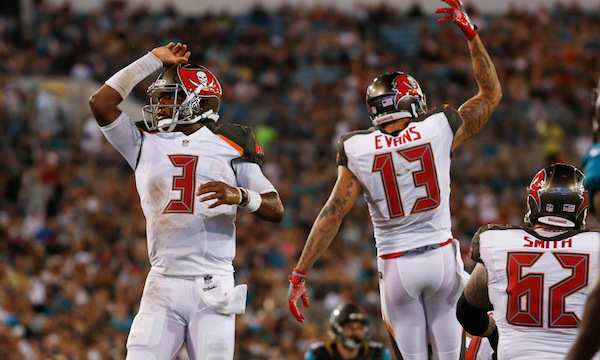 Taking some heat off Winston will be a loaded arsenal of weapons. Speedster DeSean Jackson joins freak-of-nature Mike Evans for a killer one-two punch. That trio will propel Tampa Bay to its first division title in a decade.
Pick: Tampa Bay (+275)
Last Team to Win a Game
Unlike the NBA, "tanking" was unheard of in the NFL. Not anymore. Franchises such as the Browns, Bills, and Jets are stockpiling picks at the expense of good players — a clear sign they're already thinking about 2018.
Out of the three, New York appears to be in the worst position thanks to their quarterback situation, where journeyman Josh McCown will get the nod. Buffalo's Tyrod Taylor is a clear upgrade and Cleveland is fresh off dumping McCown themselves.
When McCown inevitably gets hurt — like he always does — the Jets will have to turn to Bryce Petty. Yikes. It's going to be a rough go in New York.
Pick: Jets (+625)
NFL Offensive Rookie of the Year
Excuse us while we gush over the ninth-overall pick Christian McCaffrey. With breakneck speed and deceptive power, this guy has superstar written all over him.
McCaffrey will be a focal point of Carolina's offense this season. Whether it's taking direct snaps out of the Wildcat formation, catching Cam Newton dump passes, or juking defenders — McCaffrey can do it all.
The advantage McCaffrey will have in this prop bet over other talented rookies — Leonard Fournette, Joe Mixon, or Dalvin Cook — is Newton. The other three will be marred by iffy quarterback play, whereas McCaffrey will thrive with fellow playmaker Newton.
Pick: Christian McCaffrey (+500)
Super Bowl Winner
The NFL is a quarterback-driven league, meaning the Super Bowl favorites have to be New England and Green Bay considering Tom Brady and Aaron Rodgers are the runaway best throwers in the league.
This prop bet is a toss-up between the two, but we're favoring the Packers just slightly. Besides them being a lot more valuable of a bet (Patriots are +325 to repeat as champions), Rodgers will be even better this season as scary as that sounds. Green Bay's addition of tight end Martellus Bennett will add another layer to the Rodgers-led attack. Watch out!
Pick: Green Bay (+1000)