Mayweather vs. McGregor: Over or Under on pay per view record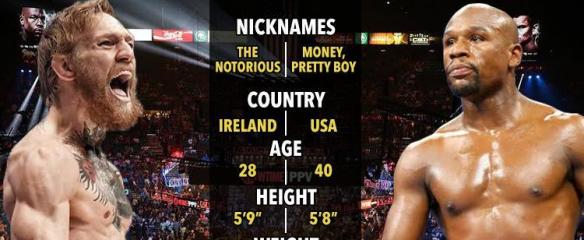 Expect an all-new pay-per-view record for the big bout
The common denominator in the largest-selling pay per views of all time is Floyd Mayweather. The man they called "Money" has broken the two million buys mark on three separate occasions — against Oscar De La Hoya, Canelo Alvarez, and Manny Pacquiao. The latter topped out at an eye-popping 4.6 million buys, which many believed was the glass ceiling for PPV sales.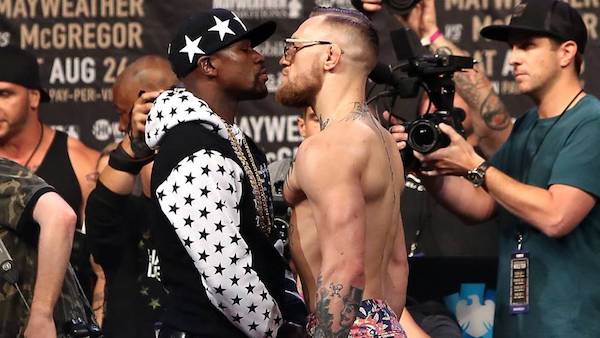 However, that ceiling might be shattered come August 26 as Mayweather, the biggest fighting draw of the past decade, meets Conor McGregor, the UFC cash cow.
Oddmakers appear to be convinced the previous mark will go down. TopBet has it at a staggering -600 to surpass 4.6 million. Heck, on Bovada and BetOnline, the over/under is at a whopping five million. Bovada's over sits at -230, while BetOnline is more modest with -165.
You can't downplay both fighers' star power. These two are two of the greatest showmen ever. But in spite of that, breaking five million is no shoe-in.
The PPV will run $100 a pop, unless you're stuck in a time warp  and opt for the "standard definition" version at $90. Not a cheap ticket by any means. The unprecedented spectacle will also be broadcasted on movie theaters around the country at a $40 buy-in, which could cut into the buy rate.
Even more worrisome, thousands of tickets remain available at the T-Mobile Arena for the actual fight. By comparison, Mayweather-Pacquiao sold out almost instantaneously and Canelo-Gennady Golovkin — which takes place just three weeks afterward — is also a sellout. Could this be a sign of things to come? Maybe, but we're inclined to say no.
Naysayers believe true fighting purists won't buy in because McGregor has little to no chance of defeating Mayweather, unlike Pacquiao-Mayweather, which most believed was a true toss up. However, McGregor has turned many doubters into believers — a true testament to his promoting skills.
Maybe it's McGregor's youth and size advantage. Or the conviction in his voice when he says, "I'm going to knock him out in under four rounds. Mark my words." But all that is making McGregor roughly a +500 bet to pull off the upset. Those are better odds for all but three of Mayweather's last ten opponents.
Already, the buildup to this matchup blows Mayweather-Pacquiao out of the water. The tension was lacking in "The Fight of the Century" as they billed the latter bout. Not this one. Mayweather and McGregor — two proven egomaniacs — hate each other, and that was reflected in the four-city world tour they did where insults, cussing, and outlandish behavior was the norm.
And unlike Mayweather-Pacquiao which drew from the same boxing audience, McGregor brings an entire new fan base with him. If you watched the press conferences, you know McGregor was the overwhelming fan favorite — a clear-cut sign that MMA diehards are paying close attention to this fight.
That's why we believe ticket sales have sputtered, too. MMA fans aren't used to forking over top dollar for tickets, unlike the old-timers that follow boxing more closely. However, a $100 PPV price point is certainly within limits for MMA purists.
Furthermore, McGregor brings that international flavor with him. He's a megastar in his native Europe, as well as Australia, Brazil, and similar fight-crazy countries. Those markets were mostly blind spots during Mayweather-Pacquiao.
August 26 is going to be a can't miss cultural event, rivaled only by the Super Bowl and World Cup. The audience will go beyond the usual fight and sports fans, which means you can expect a new all-time PPV record. Matter of fact, over five million buys is more than reasonable.