Colts vs Texans: NFL Week 9 Sunday Night Prime Time Battle
Looking to rebound, after the Cincinnati Bengals let us down during Thursday Night Football action, we turn to the Sunday Night National Football League prime time action as the Houston Texans host the Indianapolis Colts. Kickoff, from Reliant Stadium in Houston, Texas, is slated for 8:30 PM ET on November 3, 2013. In a week that appears loaded gifts – is this another one?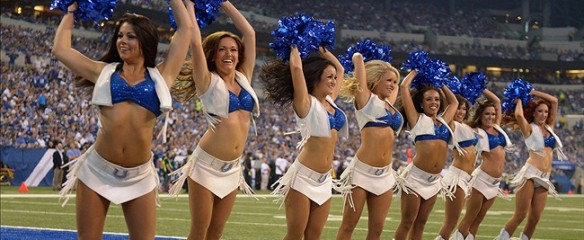 Indianapolis Colts: Cream of AFC South Division crop
Although we expected a decent season out of the Indianapolis Colts, we have to admit we didn't expect them to be 5-2 and owners of a two game in the AFC South Division. They also surprised us by pummeling the Denver Broncos 39-33 in Week 7 action as that contest was way more lopsided than the final score indicates. The Colts were handing the Broncos their lunch as they were up 36-17 early in the fourth quarter. News Flash: QB Andrew Luck is good!
Houston Texans: Facing a very long NFL second half road to redemption
Coming out of their bye week, Houston is looking to put a disastrous first half behind them as they have lost five straight contests and sit three games behind the Colts with a 2-5 record. Injuries and horrendous quarterback play has hampered the Texans all season long and we don't expect things to get much better anytime soon. Houston LB Brian Cushing tore his ACL in Week 7 and is out while rookie QB Case Keenum gets his second NFL start over Matt Schaub.
Texans vs. Colts bet 365 Sportsbook Wagering Line & Our Game Night Call
While both of these teams have experienced vastly different seasons, they will be rested as they both enjoyed a bye during the Week 8 NFL schedule. We expect the Colts to keep galloping in this contest, even without WR Reggie Wayne who tore his right knee ACL last week, as the Texans aren't who we thought they were. Saddle up and ride with the Colts and the -1.5 (-110) price posted by the bookmakers at the bet365 online sports wagering website!