What the Puck? NHL Online Betting Fans Have NFL Options
In all their infinite wisdom, the National Hockey League is taking a page out the NBA "How Can We Fix This Mess" playbook. As such, puck betting fans are on thin ice as we have serious doubts that the 2012-13 NHL season will open on it's target date of October, 11, 2012. Rather than wondering on vacant frozen ponds, NHL handicappers have a multitude of wagering offers available. Get the puck out there and explore the vast NFL betting options today!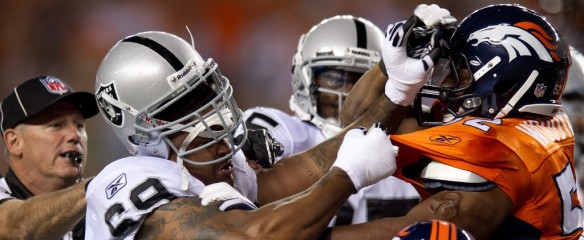 Denver Broncos: Get a busted up AFC West foe
Though we have carefully researched this Free Pick, due to limited space, we are going to be short and sweet today. The Denver Broncos have gone from "hey they rock" after a big Week 1 home win over the Steelers, to "wow do they ever suck"  after back-to-back loses to the Falcons and Texans. Denver gets a walking wounded Raiders club in this one.
Oakland Raiders: Black & Silver turns Purple & Blue with injuries
Hopes were high that new management, along with some key player additions, would spark a fire in the Black Hole. After three weeks, it's more of the same in Oakland. The Raiders opened the season with a hard fought loss to the Chargers, then a serious road beat down by the Dolphins, before getting in the win column with a home win over the Steelers last Sunday.
Raiders vs. Broncos Advantage Sports Betting NFL Game Day Prediction
If you have an hour be sure to read up on the Raiders injury report. The Broncos are playing a second straight home game and they are near full health. That said, it is a heated rivalry game and Oakland won 23-20 in Denver during Week 1 last season. Give us the home chalk -300 ML Broncos with a doubled bet at the Bovad.lv online sportsbook.