Week 12 NFL 2011: Thanksgiving Day Feast On Tap
Thanksgiving Day gets the NFL 2011 Week 12 action off to a rip roaring start with three NFL match-ups on tap for Thursday. Five of the six teams playing in these three contests are battling for playoff positions. All three games should be hotly contested and very entertaining!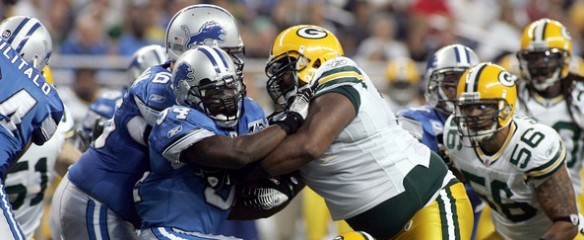 Fans of the National Football League have a lot to be thankful for as the Week 12 action kicks off with a Thanksgiving Day triple-header feast on Thursday, November 24, 2011.
Lions vs. Packers: NFC North Mayhem In Motown
The Detroit Lions and Green Bay Packers meet in the Motor City to kick off the NFL 2011 Week 12 action. The Packers are cruising along at 10-0 while the upstart Lions are 7-3 and hanging tough in the NFC North, as well as the NFC Wild Card Playoff race.
Despite losing nine of their last 11 Thanksgiving Day contests, the Lions will be competitive in this one. Since 1984 Detroit and Green Bay have meet six times on the US holiday weekend. The Packers hold a 4-2 win advantage, including a 34-12 victory back in 2009.
Cowboys vs. Dophins: Renew Holiday Hostilities
For the fifth time in NFL Thanksgiving Day history, the Dallas Cowboys will host the Miami Dolphins. Miami holds a 3-1 series edge. This match-up is most famous for the epic blunder by Leon Lett in the November 25, 1993 "Snow Bowl" in Dallas.
On that snowy day in Dallas, Miami was trailing 14-13 as they lined up for a 41-yard field goal with 15 seconds left on the game clock. The kick was blocked by the Cowboys, seeming clinching a Dallas win. Lett however made a move on the ball, slipped in the snow, and muffed it. Miami got the ball back on the 1-yard line and kicked a game winning field goal.
While the move by Lett was a huge blunder, the Cowboys regrouped and won the rest of their games that season – including Super Bowl XXVIII over the Buffalo Bills.
49ers vs. Ravens: Divisional Leaders Battle In Baltimore
Baltimore (7-3) and San Francisco (9-1) lead their respective divisions as they clash in the Week 12 Thursday Night Football contest. This is the first time in NFL history that two Brothers will oppose each other as head coaches. John Harbaugh leads the Ravens, while brother Jim is the first year coach of the Niners.
There isn't much history between these two clubs as San Francisco holds a 2-1 series lead. The Ravens won the last match-up, by a 9-6 count, back on Sunday, October 7, 2007.
The NFL Thanksgiving Day table is set – are you ready for a fabulous Football Feast?