Week 10 NFL 2011 Schedule: Division Leaders Battle
It may only be Week 10 of the NFL 2011 schedule but we have some serious contests, where division leaders will battle against each other, this weekend. The Jets vs. Patriots and Steelers vs. Bengals are two games that jump off the page and scream playoff caliber football.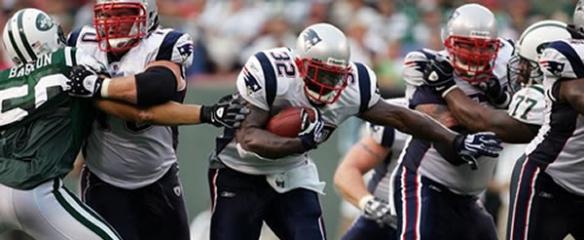 Play every game – like it's your last. That's one of the things that we love the most about the NFL as teams can't take games off at any time during the regular season.
Teams in MLB, the NBA, and the NHL, can all afford stretches where they kind of coast along, knowing it's a long season. The same can't be said for the National Football League.
Steelers vs. Bengals: AFC North Leaders Battle
While the NFC has clear cut leaders in almost every division, the same can't be said for the AFC. Cincinnati, sitting at 6-2, is the biggest surprise team in the NFL this season. With the NFL tie breaking procedures, the Bengals currently own the first place in the AFC North.
A victory over the visiting Pittsburgh Steelers (6-3) this weekend would put them a game and half up on the defending AFC Champions. While we see the Ravens winning this division, a Wild Card playoff spot is certainly not out of the question for the upstart Bengals.
Jets vs. Patriots: Bitter AFC East Foes Collide In East Rutherford
New England (5-3) opened the season with a 5-1 record but have now lost two straight games. New York (5-3) had a 2-3 start to the NFL 2011 season but have won their last three contests. It all adds up to a showdown for first overall in the AFC East.
These two clubs meet back in Week 5 as the Patriots rolled out to a 24-14 fourth quarter lead before cruising to a 30-21 win in Foxborough. The Jets have gone 3-0 since that game while New England has struggled to a 1-2 record. A win by either team, while it doesn't give them a stranglehold on the division, definitely gives them a leg up.
Week 10 and we already have playoff type battles occurring weekly. The NFL Rules!