Underdog Odds and Prop Betting Forecast Super Bowl XLVII MVP
As an increasingly huge part of the Super Bowl betting experience, proposition betting is now largely accepted as a mainstream handicapping optiom at online sportsbooks around the planet. Today we head to the BET365 sports wagering website to get an update on the underdog odds for their "Who Will Win the SB MVP Award" prop betting offer. Is it time for an underdog winner? We'll find out on Sunday, February 3, 2013, when the San Francisco 49ers battle the Baltimore Ravens from the Mercedes-Benz Superdome in New Orleans, LA.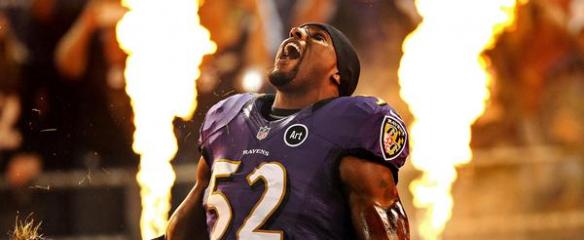 Quarterbacks have made the trip to Disney World after five of the last six Super Bowl's. When Ray Lewis won his MVP honor he didn't make it to Disney World as his image was slightly tarnished after that tragic post-game night club incident in Atlanta. Ravens QB Trent Dilfer, who the Disney people viewed as a better 'feel good" story, hung out with Goofy & Crew instead.
Do defensive MVP's ride the teacups at Disney World?
When the Cowboys Doomsday Defense busted up the Broncos in SB XII, Harvey Martin (sadly the only SB MVP who has passed on) and Randy White became the first and only co-MVP winners to date. Dallas LB Chuck Howley (SB V) is the only player to win the MVP award while playing on the losing team. Baltimore LB Ray Lewis is the only possible repeat winner playing in SB XLVII. Raytorius L52 was a key cog in the Ravens vaunted defense that spanked the G-Men 34-7 when Lewis won the MVP award for SB XXXV back in 2001.
Will a Place Kicker ever win the Super Bowl Most Valuable Player Award?
Let's say the 49ers win by a 15 -7 final score – thanks to five field goals by PK David Akers. In that case, you may want to have a Jackson or two on the +2000 prop odds as the kickers are part of the "Field" option at Bet365. Akers would be the first kicker to win the SB MVP award.  We don't see it happening in the Bayou State Shootout but you may want to remember that fact when SB XLVIII rolls into the chill of winter at MetLife Stadium in New York. Dipping into our prop betting "fun money" we'll put a Jackson on WR Torrey Smith and LB Ray Lewis.
bet354.com SB XVLII Most Valuable Player Betting Lines
Colin Kaepernick (SF) +150 Joe Flacco (BAL) +275 Ray Lewis (BAL) +600 Frank Gore (SF) +600 Ray Rice (BAL) +900 Michael Crabtree (SF) +1400 Anquan Boldin (BAL) +2000 Field (Any Other Player) +2000 Vernon Davis (SF) +4000 Aldon Smith (SF) +4000 Torrey Smith (BAL) +4000 Justin Smith (SF) +4000 Randy Moss (SF) +6600 Terrel Suggs BAL +6600 Dennis Pitta (BAL) +8000