Top Five Greatest NBA Basketball Centers of All Time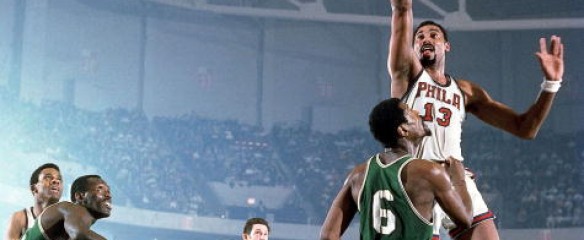 Caution: The below list of the Top Five Greatest NBA Centers of All Time is as debatable as using a spoon over a fork when eating macaroni and cheese. When making a list such as this you have to ask yourself the following questions.
Would a center that averaged 20 points per game in the 60's be able to score even 10 points against a modern era defense?
Were short shorts a disadvantage to centers playing in the 70's?
Do the new rule changes intended to increase scoring give modern era centers an advantage?
Best NBA Basketball Centers Players
We've taken the above factors into consideration when selecting the below list of the best NBA centers of all time.
5) Hakeem Olajuwon – Known for his dominant defensive play and $12 sneakers.
4) Yao Ming – If it wasn't for nagging injuries, Ming would have a lot more recognition and potential championships than he does now. Ming is a center who can shoot, defend, protect the ball and pass which are traits hard to find in centers.
3) Bill Russell – Earned 11 Championship titles in 13 years. Enough said.
2) Shaquille O'Neal – Took 3 different NBA teams to the finals and to date his only drawbacks are his free throws and not knowing when to retire.
1) Wilt Chamberlain – Known for scoring just as much off the court as he did on the court. Chamberlain did more with less than any other NBA center worth mentioning.