Thursday Night Doubleheader Kicks Off CFL Week Two Action
If Week One of the 2013 Canadian Football League season was a glimpse into the future, fans of the CFL are in for a wild ride over the next twenty weeks. In the four contests played during the CFL Kickoff Weekend, the winners earned victories by a combined 160-117 final count. That works out to an average 40-29 individual game score. After watching four teams score 38 or more points in Week One – we are very excited to see what's in store during Week Two action!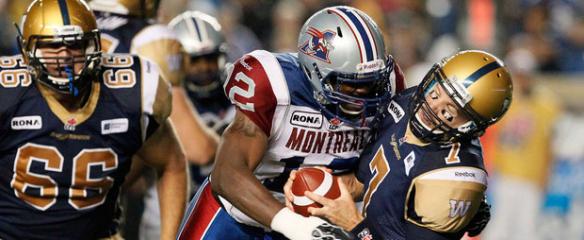 Winnipeg and Montreal meet in back-to-back battles
Although it's strange, Montreal and Winnipeg are scheduled for a home-and-home battle to open the 2013 CFL season. The Alouettes spoiled the regular season opener at the brand new Investors Group Field as they rallied in the fourth quarter to snatch a 38-33 victory. The scene shifts to La Belle Province for this contest. Kickoff is slated for 7:05 PM ET on Thursday, July 3, 2013, from the Percival Molson Memorial Stadium in Montreal, Quebec, Canada. After being -3.5 chalk on the road in Winnipeg in Week One, the Alouettes are -7 point favorites on their home turf in this contest. We see Montreal as a lock to move their record to 2-0 tonight.
Argonauts vs. Lions: Cross-country CFL rivals meet in British Columbia
Toronto travels to BC Place to battle an ornery bunch of Lions in the second half of the CFL Thursday night doubleheader. Kickoff is scheduled for 10:05 PM ET. Toronto outlasted their provincial rivals as the Argos won a tight 39-34 contest against Hamilton last Friday. British Columbia opened their season with a loss on the road at a very emotional McMahon Stadium in Calgary. The Stampeders helped lift the spirits of the people in flood ravaged Southern Alberta with a 44-32 victory. The defending Grey Cup Champion Argonauts look to get to 2-0 and they roll into Vancouver as +5 point pups – taking the points and the Boatmen is tempting.
CFL 2013 Week Two Wagering Lines & Advantage Sports Betting Game Day Predictions
Winnipeg had a lot of hype and excitement surrounding their home opener last week. The player were jacked up and ready to silence the naysayers – the result was the same old Blue Bombers. Even thought they finally managed to score some points – the Bombers are still a really bad football team. Toronto defeated a solid Hamilton team but the Lions have won 15 of the last 16 games in this series. We will split our normal "load up wager" and back the Alouettes at -7 (-120) ATS and OVER 53.5 (-110) points for the Argos vs Lions battle offered at the sportsinteraction.com wagering website. Enjoy the CFL Week Two action and Good Luck!