Sunday Night NFL Preseason Odds: Bengals vs. Jets Free Pick
We kick off the Sunday Night NFL action with preseason odds for the Cincinnati Bengals traveling to East Rutherford to battle the New York Jets in AFC preseason action. The Bengals could be the worst team in the NFL so we'll soar with the Jets with our Free Pick in this one!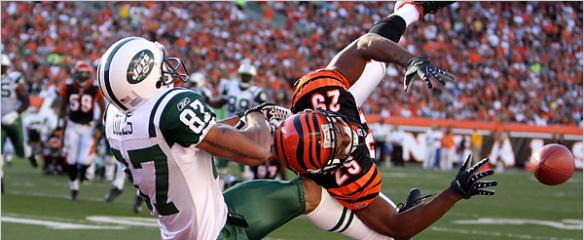 Sunday Night NFL Preseason Odds: Bengals vs. Jets Free Pick: We are down two games tonight, and then Monday Night Football, as Week Two of the NFL 2011 preseason comes to a close.
We get the Jets vs. Bengals along with the Cowboys vs. Chargers tonight, and then the Giants vs. Bears on a busy two nights of football in the New York area.
Our betting focus is on the Bengals @ Jets tilt tonight as this NFL wagering action is slated for 7:00 PM ET on Sunday, August 21, 2011, from New Meadowlands Stadium in East Rutherford, New Jersey
NFL Game Day Preview: Jets vs. Bengals
New York will probably be an angry bunch as they return home to face Cincinnati in Week Two Preseason action. The Jets appeared headed to victory in Week One before the Houston Texans pulled out a 20-16 win with a TD  in the final two minutes on Monday Night Football.
For their part, the new look Detroit Lions whacked Cincinnati 34-3 in the Motor City at Ford Field on Friday Night football during Week One. We had to check the box score to make sure the Lions didn't kick a field goal through their own goal posts but we can confirm that the revival of the Bungles is well underway.
NFL Week Two Betting Lines: Bengals @ Jets Free Pick
The big board at the BetOnline sports betting website is giving us the best numbers for this match-up tonight. We saw a lot of -7's out there and, while we see the Jets flying over the Bengals, we will take the -6 at BetOnline.com!

Understanding that there aren't any "gimmies" in preseason, the Bengals are a mess and the Jets are a semi-contender in the AFC. We can't see any reason why the Jets won't bash the Bungals in this contest tonight.
Take the Jets at -6 (-110) over the Bengals on the BetOnline Point Spread!