Sunday Night NFL Betting Odds: Eagles vs Falcons
Week Two NFL Sunday football comes to a close with the Atlanta Falcons hosting the Philadelphia Eagles. Both of these NFC clubs were talked about as playoff contenders during the lead up to NFL 2011. While neither of them overly impressed in Week One, this match-up is loaded with media hyped intrigue.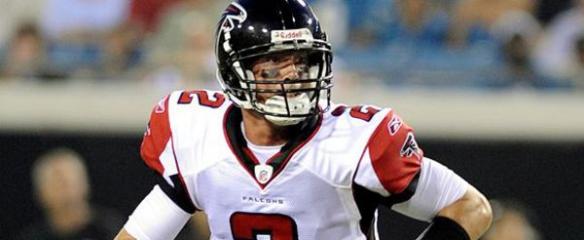 It's been talked about for weeks now (to nauseating levels) but MDKV makes his first return to the Bird Cage, as a starting QB, when the Philadelphia Eagles battle the Atlanta Falcons on Sunday Night Football.
Kickoff for this pro football betting action is slated for 8:20 PM ET on Sunday, September 18, 2011, from the Georgia Dome in Atlanta, GA.
NFL Game Day Preview: Eagles @ Falcons
Philadelphia didn't do much to impress us in Week One as they beat the St. Louis Rams by a somewhat deceiving 33-17 final score. Take away the DE JuguaParker 56 yard fumble return TD on a blown handoff, along with the poor coverage on the LeSean McCoy 49 yard TD run, and the Eagles were average for most this contest.
If the Eagles were less than impressive then the Falcons were nothing but dirty birds as they were pummeled from pillar to post by the Chicago Bears in Soldier Field. The embarrassing 30-12 final was actually worse than the score indicates. Atlanta couldn't come up with an answer for RB Matt Forte who went off for 158 total yards, with one TD, in a little over three quarters of work.
Sunday Night Betting Lines: Falcons vs Eagles
We turn to the sportsbook at the JustBet.com online wagering website to preview the betting lines for the Philadelphia vs Atlanta contest. We have struggled with this match-up since we first glanced at the Week Two NFL 2011 schedule. In the end – we are staying away from it.

Atlanta is 16-4 straight up in their last 20 home games dating back to 11/23/2008 and QB Matt Ryan is a different quarterback in his home nest.
We think the Falcons defense is better than they showed last week (they better be) and we don't see head coach Mike Smith blitzing MDKV anywhere near as much as the Rams did last week.
This will force the felon to beat the Falcons via the pass or with the Eagles backfield – not his legs. While we respect RB McCoy, we can't say the same for his quarterback. We like the Falcons to regroup at home, as underdogs, but we will pass on this game all together.
>>> Bet On The NFL Week Two Action At JustBet <<<