Stanley Cup Betting Odds: NHL Eastern Conference Championship
For the first time since January 16, 2013, it's a silent night on the frozen ponds of the National Hockey League. That's because the 16 teams that qualified for the NHL playoffs are gearing up for the chase for the Stanley Cup. With this article we take a look at the opening odds to win the NHL Eastern Conference Campionship. The Sidney Crosby led Pittsburgh Penguins are top chalk in the East and they'll be tough to beat when postseason play begins on May 1, 2013.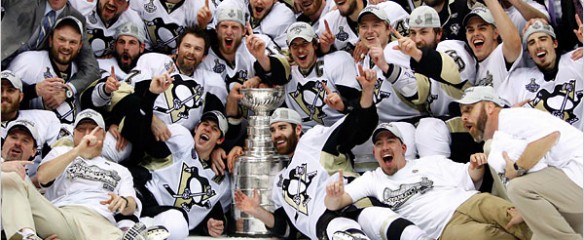 Pittsburgh Penguins: Eastern Conference Top Chalk
Now starring in the NHL 2013 playoffs – we present the Pittsburgh Penguins who will reprise the role of the Edmonton Oilers from their glory days in the mid-eighties. Sidney Crosby is staring as Wayne Gretzky, Jerome Iginla will play the role of Glen Anderson and Chris Kunitz will be a force playing Mark Messier. If the goaltending holds for the Pens – watch out folks!
Strong supporting cast has flightless birds set to soar in the NHL playoffs
Laden with talent, the Penguins are set to take flight as Evgeni Malkin, Pascal Dupuis, James Neal, and Brenden Morrow will all play strong supporting roles. It all adds up to Pittsburgh being the top favorites to represent the East in the Cup Final with a +120 line at the sportsinteraction.com online sportsbook. The group chasing the Penguins won't catch them!
Eastern Conference Championship Odds from the Sportinteraction Bookmakers