Sports Wagering Lines – Angels vs. Mariners MLB Free Pick
Today we bring you sports wagering lines for the Los Angeles Angels of Anaheim vs. the Seattle Mariners along with our MLB free pick. This four-game set will be the final series for both teams before they break for the baseball's Midsummer Classic next week in Arizona.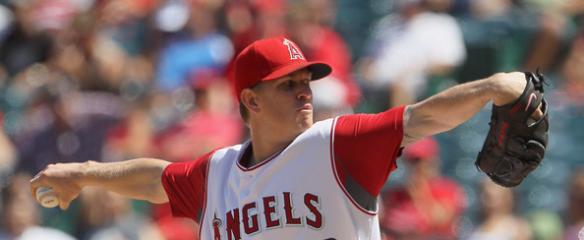 Sports Wagering Lines – Angels vs. Mariners MLB Free Pick: This is a crucial series as the Angels (46-42) are clinging to second place in the AL West with a 2.5 game lead on the Mariners (43-44) who sit 3.5 games back of the first place Texas Rangers.
First pitch for this Major League Baseball betting action is scheduled for 10:05 PM ET on Thursday, July 7, 2011, from Angel Stadium of Anaheim in sunny California.
MLB Game Day: Mariners @ Angels – Pitching Preview
If all the cards fell right for the Mariners this weekend, they could be tied for first in the AL West heading into the All-Star break. While that's the good news, the bad news is they open this four game set against RHP Jered Weaver (10-4 – 1.92 ERA) who has allowed just eight runs in his last six starts.
Seattle will send RHP Doug Fister (3-9 3.02 ERA) to the mound against Weaver. Despite his losing record, Fister has been fairly good at punching out batters lately. In his last three starts, the big right-hander has given up one run per game, in 25 innings of work, albeit against the likes of the Padres and Marlins.
Mariners vs. Angels Sports Wagering Lines – MLB Free Pick
We look to the sportsbook at the Bodog.com online website for tonight's Mariners vs. Angels sports wagering lines. These are the odds we used to make our pick but the numbers may have changed. Please check the ASB Odds Comparison feature for the latest lines.

As much as we loved the Braves over the Rockies last night – getting greedy cost us. Our daily free pick was a winner (+105 units), as Atlanta more than covered the -1.5 point spread, but we lost the UNDER portion of our "bonus" parlay bet. In the end, we netted a meager five-unit profit. Greed Kills!
Seattle ranks dead last, in virtually every offensive category, in all of baseball. That's not a good thing when you are facing the American League ERA leader. The Mariners will need a gem out of Fister, along with a mini-meltdown by Weaver, if they hope stay close in this contest.
Anaheim is starting to roll as they have gone 12-4 over their last 16 games – scoring at least four runs in eight of those match-ups. The competition hasn't been very tough over that span, other than the Tigers, but four runs should be enough to make a winner out of Weaver and the Angels tonight.
Align with the Angels over the Mariners at -1.5 (+120) with the Bodog Point Spread!