Red Wings vs. Blackhawks: NHL Stanley Cup Semifinal Game Seven
Following directly on the heels of a thrilling 2-1 Game Seven win by the Los Angeles Kings in the I-5 Series last night, puck betting fans get another series decider as the Detroit Red Wings visit the Chicago Blackhawks tonight. It'll be Madness on Madison as puck drop for this NHL Western Conference semifinal action is slated for 8:00 PM ET, on Wednesday, May 29, 2013, from the United Center in Chicago, Illinois. We like the Hawks to clip the Wings in this contest.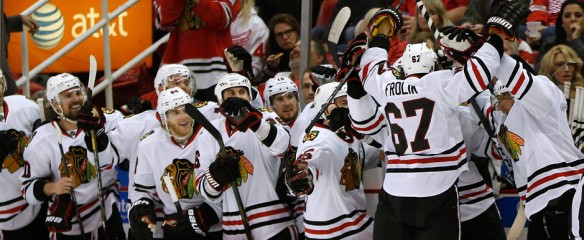 Chicago Blackhawks: Riding huge momentum swing
After spotting Detroit a 3-1 Western Conference semifinal series lead, Chicago has stormed back with two straight wins to set up tonight's thrilling Game Seven. The Hawks are riding a huge wave of momentum while the Red Wings are wondering what hit them. During three straight wins, Detroit outscored Chicago 9-2 but the Hawks have regained their scoring prowess with four goals in each of the last two contests. Concentrated effort or not, the Blackhawks have been crashing the net and that has taken Jimmy Howard off his game. They have also been hitting every Red Wing that moves and we expect more of the same tonight.
Detroit Red Wings: Cinderella season ends with Madness on Madison
Despite what was considered to be a "rebuilding" year for Detroit, the Red Wings have shown once again why they are the best run sports franchise in North America. Riding an 8-3 recent record heading into this series, Detroit pushed that run to 11-4 prior to dropping the last two contests. That said, the stellar run the Wings have been on over the last month will come to an end tonight. We mentioned that the Hawks have pushed Howard off his game and that's not good news for the Motor City Crew. Chicago is loaded with firepower and they have home ice advantage with the Madness on Madison on their side in this series deciding Game Seven.
Chicago vs. Detroit NHL Playoff Wagering Lines & Advantage Sports Betting Game Day Prediction
Surfing over to the bet365.com online sportsbook we find Chicago as home chalk at -1.5 (+140) ATS and -225 on the money line. Detroit is posted as road pups at +1.5 (-160) on the puck line and +185 S/U while the Over/Under is set at five goals. We see momentum, home ice advantage, and a shaken Jimmy Howard facing the Hawks renewed scoring punch, as the keys to victory tonight. A Chicago win means that the last four Stanley Cup winners (PIT, CHI, BOS, LAK) will meet in Conference Finals for the first time in modern day NHL history. Betting with our head, not our heart, we'll soar with Hawks and load up on the money line at Bet365!