Matt Moore: Rays Rely on Rookie in Yankees Series Finale
With their playoff lives on the line over the next week, the Tampa Bay Rays need a quality performance tonight against the New York Yankees. Tampa currently sits 2.5 games behind the Boston Red Sox in the American League Wild Card race.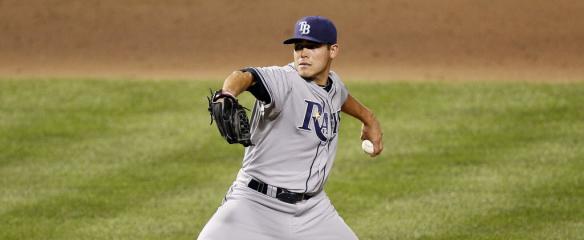 First pitch for this Major League Baseball action is set for 7:05 PM ET on Thursday, September 22, 2011, from Yankee Stadium in the Bronx, New York.
Tampa Bay Tries To Salvage A Win In New York
Having dropped both games of a doubleheader on Wednesday against the Yanks, Tampa Bay is in a tight position and can ill-afford to drop any games from here on out. After the Blue Jays this weekend, another three-game series against the Yankees will end the Rays regular season.
This will be a pressure packed situation for rookie LHP Matt Moore as his Rays (85-70) face the 2011 AL East Division Champion Yankees (95-60). Tampa Bay is also challenging for a playoff spot, but running out of games, in a now dwindling season.
Moore was recalled ten days ago from Triple A Durham and will be making his third career major league appearance. In his previous 4.1 innings pitched, against Boston and Baltimore, Moore gave up three runs on five hits and struck out four.
New York sends Bartolo Colon (8-9) to the mound for tonight's match-up, in a contest that means little to nothing to the Bronx Bombers.
Baseball Statistics: History Favors The Home Team
Tampa Bay will want to forget that the Yankees have lost just once in their last 11 home games. For the season, the Rays have won twice in eight games at Yankee Stadium. Tampa Bay is a respectable 36-29 against the AL East during the 2011 MLB season.
Boston leads the AL Wild Card race by 2.5 games over the Rays as well as the Anaheim Angels of Anaheim. The Angels face the Blue Jays tonight before closing out the season in series against the A's and Rangers.