Pro Football Betting: CFL Style At Bodog
With the NFL Lockout nearing an end, football is on the minds of sports bettors all over the globe. Why not get in some pro football "preseason" betting – CFL regular style with the sportsbook at the Bodog online sports wagering website. Football is football, do your homework, study the trends and statistics, then start winning on Canadian Football today!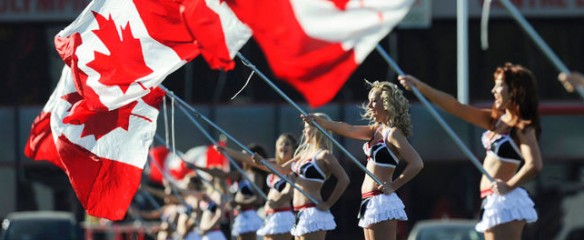 Pro Football Betting CFL Style At Bodog: The field is longer and wider, the end zones are huge, and they only allow three downs to get a first down. Add it all up and you get some of the best football, anywhere on the planet, with the Canadian Football League.
Bodog knows Canada and CFL Sports Betting
From their humble begins, to the strong roots they enjoy today, Bodog knows Canada and the CFL. This brand of football is action packed, super fast paced, and  a 55-yard "bombs away" TD strike can happen at anytime, on any play.
Through the first two weeks of the 2011 CFL season, eleven players have attempted 561 passes, they have completed 347 of them for 4,490 yards and 25 touchdowns. By comparison, 40 players have shared just 293 rushing attempts that have netted 1,481 yards and 15 touchdowns. Air it out baby!
CFL 2011 Week Three Prop Betting Odds – Championship Futures
Below we give up a small sample of what you can expect when it comes to the CFL Week Three and Future Betting options at Bodog.
The pigskin will be flying in the CFL starting on Thursday this week. The action continues on Friday and Saturday as well. That's three days of great football excitement, so get in on the CFL betting game, at a respected online sportsbook like Bodog, today!