Phillies vs. Tigers: MLB Inter-League Odds and Prediction
Baseball on a lazy Saturday afternoon – seems like a perfect combination to us. Throw a few dollars down on a well researched Free Pick prediction, from the Crew here at Advantage Sports Betting, and you have the cherry for the top. Philadelphia and Detroit play the second contests of a three game Inter-League series in the Motor City today. First pitch flies at 7:08 PM EDT on Saturday, July 27, 2013, from Comerica Park in Detroit, Michigan. Cruise with the Cats!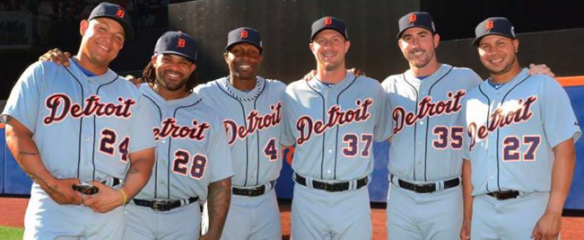 Motor City pitching rotation has a new Ace dealing
If Max Scherzer's win percentage and the Tigers team batting average were cold hard cash Detroit would be one of the richest towns on the planet. We like the Tigers new Ace being the bump in Detroit today as the Maximizer is 14-1 (3.14 ERA) and sits fourth with 157 strikeouts over 137.2 innings pitched – just seven K's behind Matt Harvey from the New York Mets. The Tigers are winners of four of their last five games and Philly hitters average 7.38 K's per game.
Philly Fanatics are starting to look at the Philadelphia Eagles NFL schedule
It's starting to look like a lost season for Phillie Fanatics. Philadelphia is nine games back in the National League East and 9.5 games out of the NL Wild Card race. Philly has lost six straight games and this is their eighth game on the road coming out of the All-Star break. The loses have been by a 30-10 combined count and come after their first post All Star break battle was a 13-8 slugfest win over the NY Mets. Don't expect much from the Eagles in the NFL either!
Detroit Tigers vs. Philadelphia Phillies: MLB Saturday Betting Odds & Game Day Prediction
Having spent many fantastic days and nights on The Corner at Michigan & Trumbull I feel for you Detroit. Bankruptcy isn't the end of the world, reinvent the Motor City, and hang in there! The Cats are doing their part to Restore the Roar in Motown as they are three games up in the American Central. The Tigers are -1.5 (-130) ATS and -250 on money line on the bet365.com betting board today. Detroit scored a 2-1 win last night – their bats should bust out tonight!
Advantage Sports Betting Prediction: Back Detroit at -1.5 (-130) with the Bet365 run line!