Packers vs Lions NFL Week 14 Sunday Night Football Betting
NFL Week 14 Sunday Night Football betting action brings us the 165th regular season meeting between the Green Bay Packers and Detroit Lions. The Packers are in a heated playoff race while the Lions are toast. Kickoff is scheduled for 8:20 PM ET on December 9, 2012, Lambeau Field, Green Bay, Wisconsin. Green Bay has owned Detroit on the frozen tundra recently!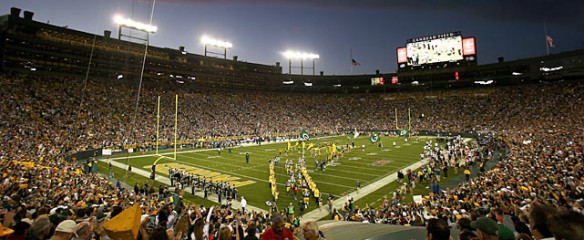 Green Bay Packers: Hanging tough despite injuries
At about the time we figured the infirmary would be thinning out some in Green Bay, it's gotten more crowded as Packers WR Jordy Nelson and OLB Clay Mathews are out with hamstring injuries while RB James Starks is out for the season. The injury bug has bitten hard in Green Bay this season and yet they continue to win. We like them to get to 9-4 after this match-up.
Detroit Lions: Limping towards another losing season
After reaching 4-4 and resembling contenders in the NFC playoff race, the Lions have reeled of four straight loses – including their last two games by a combined 69-64 final count. Detroit has lost three starting wide receivers recently and QB Mathew Stafford will be throwing to Jaguars castoff Mike Thomas as he starts opposite of Calvin Johnson in this NFC North battle.
Advantage Sports Betting Detroit vs Green Bay Odds and Prediction
Checking in at the William Hill online sportsbook, we find the Packers as -6.5 ATS and -300 ML favorites. The Lions are +250 straight up and the Over/Under is posted at 49 total points. With the likes of Greg Jennings, Randle Cobb, and James Jones roaming the secondary, QB Aaron Rodgers still has lots of weapons. Dating back to 1992 the Lions are 0-20 in Wisconsin.
We will back the Packers with a 10% bankroll bet on the -300 ML at William Hill. Being as we won the first leg of our Thursday teaser bet (DEN), we are going to make an IF BET here as well. IF the Seahawks cover the -4 against Arizona, we'll tease the Lions up to 7.5 points (-140) with a 5% wager. A Green Bay win by seven points or less will cash all three tickets.