Packers vs. Giants Highlights NFL 2011 Week 13 Action
With the Super Bowl Champion Packers looking to stay undefeated, and the Giants in a fight for their playoff lives, this NFC tilt highlights the NFL 2011 Week 13 Action. Green Bay is trying to lock down a playoff bye, while New York is battling for first in the NFC East.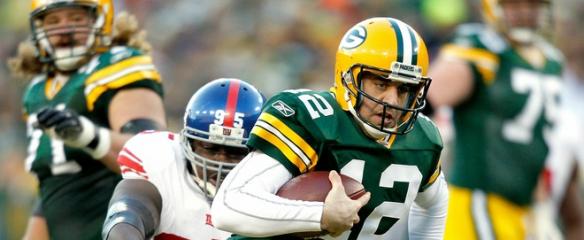 Once thought of as a possible NFC Playoff match-up, the Green Bay Packers vs. New York Giants battle on Sunday has turned in a battle of survival for the G-Men. Back the Pack here.
Packers @ Giants: Week 13 NFL Game Day Preview
New York (6-5 Home: 3-2) trails Dallas by one game in the NFC East heading into Week 13 action. Over the last three weeks, the Giants have lost three straight contests, to the 49ers, Eagles, and Saints. The loss to New Orleans was particularly telling as the Giants were routed 49-24 during Week 12 Monday Night Football. Routed? They were destroyed!
Green Bay (12-0 Road: 6-0) is closing in on a full calendar year since they've lost a regular season or playoff contest. The Packers last taste of defeat was December 19, 2010, when they were upended 31-27 during Week 15 action against the New England Patriots.
Green Bay Packers Quarterback Aaron Rodgers Streaking Along
Green Bay QB Arron Rodgers has not lost a game, that counted for anything, in his last 17 starts. The current winning streak started with a Week 16 pounding of the Giants last season.
Rodgers passed for 404 yards and four touchdowns as the Packers blew the doors off the Giants with a 45-17 win at Lambeau Field. That win was a Super Bowl launching pad for the Packers as they cruised to six straight wins and their SB XLV Championship Title.
While this contest is being played at MetLife Stadium, on Sunday Novemeber 4, 2011, at 4:05 PM ET, in East Rutherford, NY, we expect a similar result as we fast forward to Week 13 of the 2011 season. If you are betting on this contest, you can back the Green Bay Packers at -6 (-110) over the New York Giants at one of our top rated online sportsbooks.