Owner Frank McCourt: Burning LA Dodger Bridges
It's one thing when an athlete tries to compete past his prime, it's quite another when a team owner tries to stay in the game without any cash. That's what the Los Angeles Dodgers and their Fans are dealing with as owner Frank McCourt refuses to admit that he is has struck out in LA. Things are going from bad to worse in a big way for this storied franchise. Beat it Frank!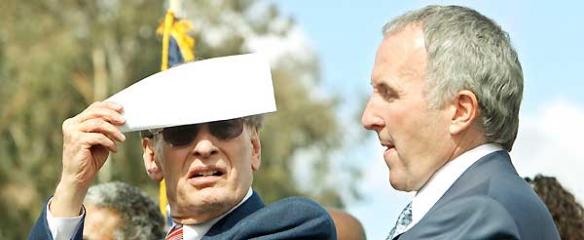 Owner Frank McCourt: Burning LA Dodger Bridges: The divorce of McCourt and his wife Jamie, a Dodgers former Chief Executive, hit the headlines over a year an a half ago. Though the nasty split was viewed by many as the beginning of the end for the McCourt's ownership, it was just one of many waves to come crashing down on this once proud franchise.
In truth, the real trouble for Dodger Fans started the day McCourt somehow managed to pull the wool over the eyes of the MLB Ownership Committee who approved the sale back in 2004. McCourt became the principle owner and chairman of the Dodgers, and Dodger Stadium in Chavez Ravine, after he purchased the team from the Fox Entertainment Group and Rupert Murdoch's News Corporation empire.
Legend Steve Garvey – Latest Casualty In McCourt's War On Baseball
It is being reported (Los Angeles Times) that the Dodgers have fired former Dodger great Steve Garvey who was the face of the teams marketing and community relations department. Garvey was the 1974 National League MVP,  a 10-time All Star, and a 1981 World Series Champion while wearing Dodger Blue.
Rumors have circulated that Garvey was trying to organize a group to purchase the Dodgers. LA has been the under control of MLB, on a day-today basis, since April 20, 2011. While we thought this historic franchise had hit rock bottom, when Franky filed for bankruptcy protection on June 27, 2011, this looney owner is still firing shots across the bow.
The Los Angeles Dodgers & Steve Garvey Will Be Back
McCourt needs to realize that all the legal battles in the world are not going to win him this war. The time for this renagade to go is long past. We hope and trust that someone will step up and return the Dodgers to their rich heritage and winning ways. This situation is not good for the LA fans, who are staying away in droves, or Major League Baseball as a whole.
Despite some personal problems (1980's) that tarnished his "Mr Clean" image, Steve Garvey is still beloved in Los Angeles. If he can't pull together a group to buy the club, you can at least expect him  back in the Dodgers PR department as soon as MLB washes themselves clean of the McCourt ownership group. The sooner, the better as far as we're concerned!