NHL Online Parlay Betting Options: California Teams in Focus
National Hockey League action is our focus today as the season winds down and half of the teams are gearing up for the NHL playoff chase. With just four days left on the NHL regular season schedule, there's still a lot to be decided when it comes to postseason positioning. Today we take a look at the Los Angeles Kings vs. Detroit Red Wings and San Jose Sharks vs. Phoenix Coyotes contests. Both of these games, scheduled for Wednesday, April 23, 2013, have major playoff implications. We'll take the pucks and parlay the Kings with the Sharks!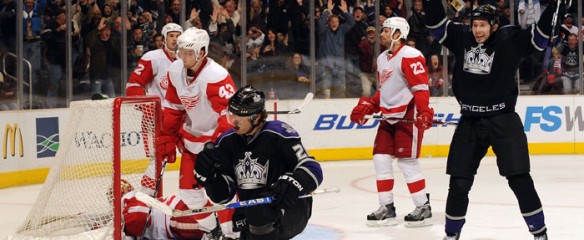 Red Wings vs. Kings: Huge Battle in Hockey Town
Having already punched their ticket to the 2013 NHL playoff party, Los Angeles is trying to fend off the San Jose Sharks as they battle for the #4 seed and home ice advantage in the first round of the postseason. The Kings are coming off a 2-1 loss to the Minnesota Wild last night. For their part, Detroit currently sits ninth in the Western Conference – just one point back of the Columbus Blue Jackets. Detroit has played one less game than Columbus and can jump into the playoff picture with a win tonight. The Red Wings defeated Phoenix 4-0 on Monday.
Sharks vs. Coyotes: San Jose eyes the #4 seed in the Western Conference
Currently tied with the Kings for the #4 seed in the Western Conference playoff race,  San Jose heads into the desert to battle Phoenix tonight. The Coyotes, who are basically out of  postseason contention, are looking to play the role of spoilers. The Sharks lead the season series as they have won three of the four games by a combined 12-6 count. The Coyotes last game was the aforementioned 4-0 loss to Detroit, while San Jose lost 3-2 at home to the Dallas Stars last night. The bookies are giving us pucks and we'll certainly take them.
Advantage Sports Betting National Hockey League Wednesday Night Parlay Betting Prediction
Checking in at the bodog.ca online sports wagering website, we find the Kings and Sharks as road underdogs tonight. We are more than OK with that as the better team in both contests is getting pucks and could (should) win outright. As such, we are going to take Los Angeles with the +1.5 (-270) price and tie them together with San Jose who are posted with a +1.3 (-300) puck line at the Bodog sportsbook. Stay with ASB as the Stanley Cup chase begin next week!