NHL Standings: Playoff Battles Brewing
With the majority of the teams in the National Hockey down to 18 games or less, today we take a look at some of the possible playoff match-ups – if the postseason was to start at this point.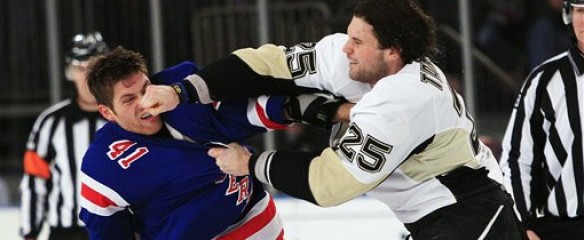 NHL Western Conference Playoff Possibilities
Playoff races abound in the NHL Western Conference as first overall is being contested by three teams. The race for the final two playoffs is even closer as six teams are separated by just five points. As it sits at the time of writing, a couple of first round match-ups catch our eye.
An all west coast battle between the Canucks and Sharks would certainly be a dandy. A cross country series between the Chicago Blackhawks and Phoenix Coyotes, who are separated by just four points in the standings, would also make for intriguing first round playoff action.
New York Rangers Rolling In The NHL Eastern Conference
Things aren't quite as close at the top of Eastern Conference as the Broadway Blueshirts have racked up a ten point lead over the Pittsburgh Penguins in both the Atlantic Division and overall in the league. It would take Wall Street meltdown for the Rangers to lose their lead.
It's a muddled mess for the rest of the East as some teams have played less games than others and the division leaders are very tightly bunched. Five teams are also battling for the eighth and final playoff position in the East as they are all separated by just three points.
No matter how it all shakes out, we are eagerly anticipating the NHL playoff betting season!