NHL Sports Betting Odds: Red Wings vs Predators
The Nashville Predators can leap-frog the Calgary Flames and take sole possesion of the eighth and final NHL Western Conference playoff spot if they can continue their recent domination of the Detroit Red Wings in Saturday night NHL action from Nashville, Tennessee.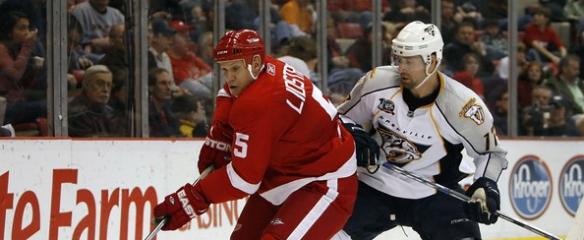 NHL Sports Betting Odds: Red Wings vs Predators: With the majority of teams having less than a dozen games left on their 2010-11 NHL schedule it is crunch tine for the teams that are on the NHL playoff bubble.
One of those teams is the Nashville Predators who host the Detroit Red Wings from the Bridgestone Arena in Nashville, TN, on Saturday, March 19, 2011, with puck drop scheduled for 8:00 PM EDT.
NHL Game Day Preview – Red Wings @ Predators
Coming off a huge 4-3 OT win against the Boston Bruins on March 17, 2011, Nashville will look to keep the momentum  going against Detroit tonight. This is the fifth of six meetings between the Wings and Predators in a series that has been surprising dominated by the saber-toothed ice tigers.
Nashville is 3-1 against Detroit this season and they have won three straight match-ups by a 10-3 combined score. In the log jam for the final playoff spot in the NHL Western Conference, the Predators trail the Calgary Flames by one point with two games in hand. Nashville plays one of those games tonight as the flickering Flames are idle.
For their part, the Red Wings have a comfortable ten point lead in the NHL Central Division but just a four point lead over the San Jose Sharks for second overall in the Western Conference. Detroit is riding a four game winning streak as they tune up for their 2011 Stanley Cup playoff run.
NHL Hockey Betting Lines & Odds
NHL Puck Lines: Detroit -1.5 (+250) ~ Nashville +1.5 (-300)
NHL Money Line Odds: Red Wings -115 ~ Predators -105
NHL Game Total Odds: 5.5 total goals OVER -115 UNDER -115
NHL Sports Betting Free Pick: Take the Predators against the Bodog NHL puck line at +1.5 goals.