NHL Playoff Free Pick Sharks vs Canucks Betting Lines
Tonight we offer an NHL Playoff Free Pick for the San Jose Sharks vs the Vancouver Canucks along with betting lines courtesy of the Bodog online sportsbook.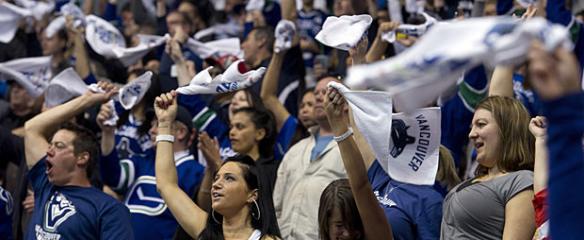 NHL Playoff Free Pick Sharks vs Canucks Betting Lines: The Vancouver Canucks can advance to the Stanley Cup Final for the third time in their 40 year history with a win tonight. San Jose is trying to send the NHL Western Conference Final series back to the Shark Tank for a Game Six.
Rogers Arena, Robson Street, and the GVA, are set to erupt as puck drop is slated for Tuesday, May 24, 2011, at 9:00 PM ET.
NHL Playoff Preview – Canucks vs Sharks – Game Five
All the stars are literally aligned as the Canucks look to move on to the big dance with a win tonight.
They're at home, they are brimming with confidence, and the Sharks have never won a Western Conference Final.
Vancouver has been stellar on both sides of special team play recently. They are clicking along at 28.8% on the power-play and are killing penalties at an 80.9% rate. That includes allowing just one goal in their last 13 shorthanded situations.
Goaltender Roberto Luongo will be playing in his most important game since Canada's Gold Medal match-up against the USA during the Winter Olympics back on February 27, 2010, in this very arena.
The Canucks have listed D Christian Ehrhoff (shoulder) as day-to-day but have not updated the status of D Aaron Rome (upper-body). We expect both of them to miss tonight's game as they rehab for the Finals.
D Keith Ballard and D Chris Tanev were very serviceable subs in Game Four and should both be back in the lineup tonight.
Human wrecking ball Raffi Torres rattled Sharks Captain Joe Thornton who left Game Four with a shoulder injury and did not return. San Jose head coach Todd McLellan has said Thornton will play tonight.
Playoff Betting Lines – Sharks @ Canucks – NHL Free Pick
Today's NHL Playoff betting lines are from the Bodog.com online sportsbook.
Vancouver knows that the Bruins versus Lightning Eastern Conference Final series could go the full seven games.
They would have a huge advantage to be home, resting and rehabbing for the next week or so, while the B's and Bolts continue to beat each other up.
The 2010-11 NHL Stanley Cup Final will open in Vancouver, as the Canucks will take care of business tonight.
Board up Robson Street – the madness is about to being!
Take the Canucks at -1.5 pucks (+165) over the Sharks!