NHL News Update: BOG Approves NHL Realignment
National Hockey League fans were rocked to the foundation as the NHL Board Of Governors approved league realignment on Tuesday. Not since the 2004-05 lockout season has the NHL dropped a bomb like this. Let's take a gander at the new look 2012-13 NHL Conference format.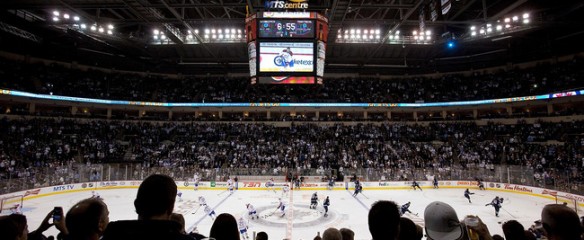 Then there were four! While there was talk that realignment would be on the table during the NHL Board of Governors meetings, few thought the changes would be so swift – or radical.
New NHL Conferences Retain Most NHL Rivalries
They will be talking about this radical realignment until the puck drops on the 2012-13 NHL season. Being as the new Conferences don't have names yet, we thought it would be news worthy to add our three cents. The National Hockey League needed this realignment.
We always thought four Conferences made sense. Fans can expect Quebec and Kansas City to join Conference C and D soon. Realignment and then expansion? The NHL is rolling!
NHL Conference A: West Coast Swingers
Anaheim, Calgary, Colorado, Edmonton, Los Angeles, Phoenix, San Jose, and Vancouver make up the West Coast Swingers. With so many trips into the "Sun Belt" if we were NHL Players, we would want to play in this Conference.
NHL Conference B: Haves and Have Nots
Chicago, Columbus, Dallas, Detroit, Minnesota, Nashville, St. Louis, and Winnipeg make up the Haves and Have Nots Conference. This setup ensures that the Red Wings and Blackhawks will keep winning for years to come.
NHL Conference C: Half Original Sixers
Boston, Buffalo, Florida, Montreal, Ottawa, Tampa Bay, and Toronto make up the Half Original Sixers Conference. The teams from the north will gladly make trips to sunny Florida during the long NHL winter.
NHL Conference D: East Coasters United
Carolina, New Jersey, New York Islanders, New York Rangers, Philadelphia, Pittsburgh, and Washington form the East Coasters United Conference. If this conference was a political lobby group, they would rule the Free World.
Let the NHL realignment debates continue…..