NHL Game Odds: Capitals vs Lightning – Free Pick
First place in the NHL Southeast Division, along with third place overall in the Eastern Conference, is on the line as the Washington Capitols visit the Tampa Bay Lightning as the marquee match-up of the Monday night puck action.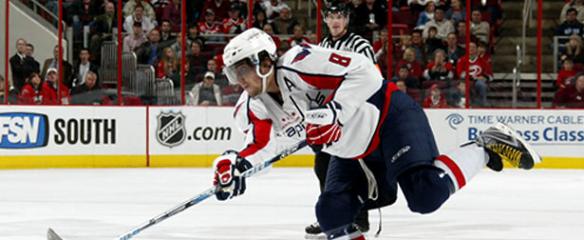 NHL Game Odds: Capitals vs Lightning – Free Pick: This is the last meeting of the season between the Washington Capitols and the Tampa Bay Lightning and the stakes couldn't be higher. First place in the Southeast Division is on the line.
Puck drop at the St. Pete Times forum in Tampa, Florida, is scheduled for Monday, March 7, 2011, at 7:00 PM ET.
Monday Night NHL Action: Capitals vs lightning – Game Preview
Washington is 3-1-1 versus Tampa this season but have been shutout by Dwayne Roloson two of the last three times these two clubs collided. The last meeting was a 5-2 Capitols win in Florida on February 4, 2011.
After ending February with three straight victories, The Lightning have not won in March, having dropped three straight for the first time since mid-November.  Steven Stamkos has not registered a point in four games, which is his longest drought of the season.
Meanwhile, the Caps have been sailing along, beating up on some non-playoff clubs for four straight wins with Alexander Ovechkin notching six points over that span.
NHL Game Day Betting Odds: Capitals vs. Lightning
Take a look at Sportsbook.com, who have the Caps sitting with a +1.5 (-300) puck line, a +105 money line and 5.5 game total.
Since getting hammered by Detroit on February 17, 2011, Tampa has had all their games decided by one goal except for their last, which was a 4-2 loss to Montreal.
The last time the Caps played an opponent with a talent level in the same ballpark as the Bolts, they got punished 6-0 by the Rangers back on February 25, 2011.
To see how big this game is, one just needs to read the headlines as the posturing has already started with Caps head coach Bruce Boudreau calling Tampa forwards Steven Stamkos and Steve Downie divers.
Puck Line Forecast: The Caps come in winners of three straight one-goal games.  With a playoff style atmosphere in the building, the Caps battle against Tampa has all the makings of a close affair.
Free Pick: Capitols +1.5 (-300) against the puck line.