NHL Free Pick – Rangers vs Capitals
Tonight's NHL Free Pick features the New York Rangers hosting the Washington Capitals in NHL quarterfinal playoff action. The Capitols are trying to take a 3-1 stranglehold of the series while the Rangers are looking to even it up at two games a piece.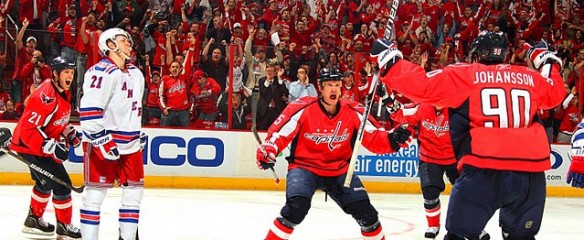 NHL Free Pick – Rangers vs Capitals: Tonight we feature Eastern Conference NHL playoff action as New York hosts Washington from the Big Apple.
Puck drop for this live NHL betting action is scheduled for 7:00 PM ET on Wednesday, April 20, 2011, from the historic Madison Square Garden arena in New York, NY.
Playoff Game Preview – Capitals @ Rangers
Washington Capitals Regular Season Record: 48-23-11
Washington let the Rangers back into this series as they took eight penalties in Game 3 and lost by a slim 3-2 margin. The Capitals are clearly the better of these two teams and that will show tonight.
New York Rangers Regular Season Record: 44-33-5
New York clawed their way back into the series but for how long is anyone's guess. The wear and tear of the vicious stretch run they endured, just to make the playoffs, is now starting to show.
NHL Betting Line – New York vs Washington – Free Pick
Tonight's NHL betting lines can be found at the SportsInteraction.com online sports betting website.

While some were calling for a Capitals sweep, we figured this series would go longer than that. The Rangers can guarantee at least one more home game with a win tonight.
A Capitals win tonight means this series should be over in five games as the scene shifts back to the Verizon Center in Washington on Saturday.
Take the Capitals over the Rangers at +1.5 (-330) on the puck line!