NHL Betting – First Round Playoff Predictions
Welcome to our NHL betting feature and first round predictions for the 2010-11 Eastern Conference playoffs. The action in the NHL playoffs is unlike anything else in sport. Advantage Sports Betting will have full coverage, all the way up to the hoisting of the Stanley Cup!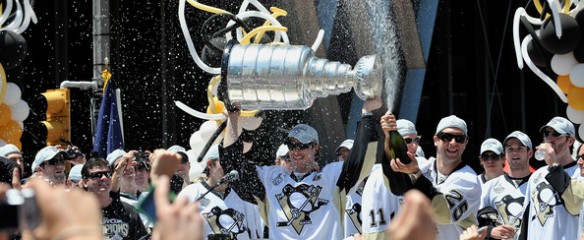 Free Picks – NHL First Round Playoff Predictions: The playoffs are set to begin on Wednesday, April 13, 2011, and Advantage Sports Betting is giving you a glimpse of things to come with our first round predictions. The odds below are for the first round of the NHL Eastern Conference Playoffs – courtesy of the sportsinteraction.com online sportsbook.
Eastern Conference First Round Predictions
(1) Washington Capitols vs. (8) New York Rangers
Betting Lines: Capitols -250 Rangers +175
This is Ovechkin's time to shine and he has been down the stretch, bright lights, big city and a real shot at the cup behind a more hardened line up which does have some injuries. Just as he did in 2009, Rangers Goaltender Henrik Lundqvist will stand tall, but it won't be enough.
Series Prediction: Caps win it seven games.
(2) Philadelphia Flyers vs. (7) Buffalo Sabres
Betting Lines: Flyers -200 Sabres +140
Philadelphia surprised everyone with their playoff run last season. This year everyone knows what they are made of, depth, skill and grit. Their Achilles heel could be their goaltending but that's what people said last year when the Flyers came within two wins of hoisting Lord Stanley's Cup.
Series Prediction: The Flyers will get a battle from Buffalo but win it in seven games.
(3) Boston Bruins vs. (6) Montreal Canadians
Betting Lines: Bruins -238 Canadians +170
There is no love lost between these two clubs who played six times during the regular season. It's a shame that one of these two great goalies will have their season end early, that goalie is likely to be Carey Price.  The B's have last year's second round collapse fresh in their minds and won't let it happen again.
Series Prediction: Bruins win this Original Six battle in seven games.
(4) Tampa Lightning vs. (5) Pittsburgh Penguins
Betting Lines: Penguins -139 Lightning +100
The outcome of this series is entirely dependent on Sidney Crosby's return. If he does not make it back, and there are no initial indications he will, with Malkin already out, it will be hard to take down this Tampa squad. The Lightning have three Stanley Cup winners on their team, along with fresh blood like Stamkos and coach Guy Boucher, and a goaltender that has been to the finals before in Dwayne Roloson.
Series Prediction: Take the Lightning to knock off the Penguins in six games.