NHL Betting Predictions – Western Conference Playoffs
Welcome to our NHL betting predictions featuring the NHL Western Conference Playoffs. For fans who love betting on the NHL, this certainly is the most wonderful time of the year. The action on the ice is kicked up a few notches and so is the betting fever at our top rated online sportsbooks!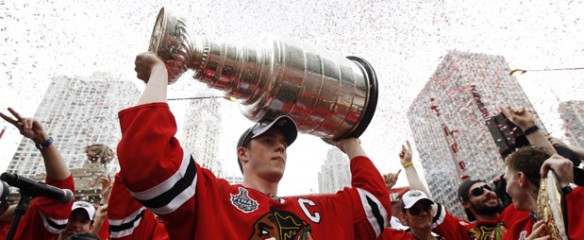 NHL Betting Predictions – Western Conference Playoffs: Today we forecast the first round of the NHL Western Conference 2010-11 Playoffs with betting lines that are featured at the sportsinteraction.com online sportsbook. The NHL playoffs are fire on ice, and the action begins on Wednesday, April 13, 2011, so get in the game today!
NHL Western Conference – First Round Predictions
(1) Vancouver Canucks vs. (8) Chicago
Blackhawks
Betting Lines: Canucks -263 Blackhawks +180
Chicago has had Vancouver's number for the past two seasons but this year will be different. The Hawks are not as deep as the Canucks and Roberto Luongo is playing some of the best hockey of his career.
Series Prediction: Vancouver will roll the Hawks in five games.
(2) San Jose Sharks vs. (7) Los Angeles
Kings
Betting Lines: Sharks -371 Kings +135
The loss of Anze Kopitar will be too much to overcome for the Kings as they face off against perennial favorite San Jose. Jonathan Quick may steal a game but the Sharks should have no problem in their first round playoff match-up.
Series Prediction: Take the Sharks to win the Battle of California in five games.
(3) Detroit Red Wings vs. (6) Phoenix
Coyotes
Betting Lines: Wings -238 Coyotes +167
Detroit is always dangerous although at times this season, their goaltending has been shaky. Phoenix is a surprisingly deep team. These two teams met last year and the series went to seven games. The same should happen this year, but Phoenix will take it in an upset.
Series Prediction: Take the Desert Dogs to pull off the upset in seven games.
(4) Anaheim Ducks vs. (5) Nashville
Predators
Betting Lines: Ducks -147 Predators +105
Anaheim has come together at the right time. A few short weeks ago they were in danger of missing the playoffs – now they look like they can make a deep run in the playoffs. If Nashville can contain the Ducks big guns on O and D – they can take this, but that is no easy challenge.
Series Prediction: Take the Ducks over the Predators in six games.