NHL Betting Odds: Kings vs Wings
Western Conference foes match-up to highlight tonight's NHL action from the frozen ponds as the Detroit Red Wings welcome the Los Angles Kings to the Joe Louis Arena. The Wings have all but locked up a 2011 NHL playoff position while the Kings are fighting just to make it into the post season action.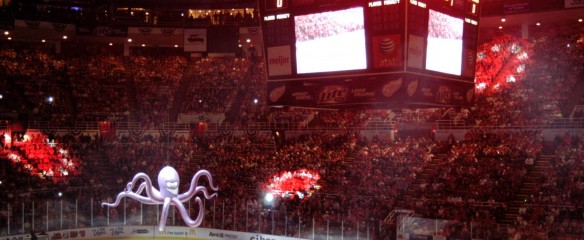 NHL Betting Odds: Los Angeles Kings vs Detroit Red Wings: The Wings welcome the Kings to "Hockey Town" as part of the seven game NHL schedule for Wednesday, March 9, 2011, with puck drop slated for 7:30 PM ET.
NHL Betting Lines – Red Wings vs Kings
Spread Puck Line: Wings -1.5 (+200)  ~ Kings +1.5 (-240)
Money Line: Wings -150 ~ Kings +240
Game Total: 5.5 ~ OVER Even ~ Under 120
NHL Game Preview: Los Angeles Kings @ Detroit Red Wings
After a lengthy west coast swing, the Detroit Red Wings are back in the cozy confines of the Joe Louis Arena. The road-trip wasn't kind to the Wings as they lost to the Coyotes, Sharks and Ducks. Ironically, the trip started with a Wings 7-4 thrashing of these same Kings back on February 28, 2011.
Detroit currently sits second in the NHL Western Conference as they trail the Vancouver Canucks by nine points with two games in hand. The Wings come into this one with a 5-3-2 record in their last ten games.
Tonight's game for the Kings marks the start of a four game road-trip as they fight for their playoff lives. Los Angeles recently enjoyed a twelve day stretch in their home state as they went 4-2-1 in California.
The Kings (36-25-5 for 77 PTS) sit in the eighth and final playoff spot in the NHL Western Conference with two games in hand over Calgary and Phoenix who both sit with 79 points. Like the Wings, the Kings have a 5-3-2 record in their past ten contests.