NHL Betting Action: HAWKS vs FLAMES Free Picks
Playoff lives are on the line as the Calgary Flames visit the Windy City to face the Blackhawks in NHL Western Conference action from the United Center in Chicago, IL on Wednesday, March 2, 2011, at 9:00 PM ET.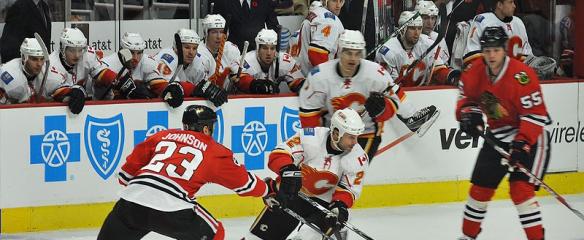 NHL Betting Action – HAWKS vs. FLAMES – Free Picks: Chicago and Calgary have met three times already this NHL season. In their most recent clash, back on February 7, 2011, from the Scotiabank Saddledome, the Flames were 3-1 victors.
Calgary Flames vs. Chicago Blackhawks – NHL Betting Preview
Just a few weeks ago, the Blackhawks were in unfamiliar territory, they were on the outside of the playoff picture looking in. A recent surge led by their captain Jonathan Toews has not only propelled them back into the thick of things, but also garnered Toews NHL Player of the Month honours.
Meanwhile, the Blues are happy to rid of the Flames as Calgary just shut them out in back to back games. After a first half of the season flame-out, Calgary has stormed back into the thick of the NHL playoff race.
Betting Lines – Flames @ Hawks – NHL Free Picks
Not only were the Flames stingy against the Blues – they have also allowed just six goals in their past five contests. The Hawks are averaging two goals against in their past five games.
While both squads have had no trouble filling the net during that time, their last two contests against each other were close affairs with each team winning one (4-2 & 3-1) and an empty net goal sealing the deal in both games.
With that in mind, try wagering at Sportsinteraction.com, as they have the under for this match-up at 5.5 with a 1.87 payout.