NHL 2012 Playoff Update: Semifinal Series Results
With two games in the books, in all four National Hockey League 2012 semifinal playoff series, today we take a look back to see if we can spot any betting trends that may be reoccurring as the chase for Lord Stanley's mug continues. Things are all tied up in the Eastern Conference while two teams in the Western Conference are still looking for their first win.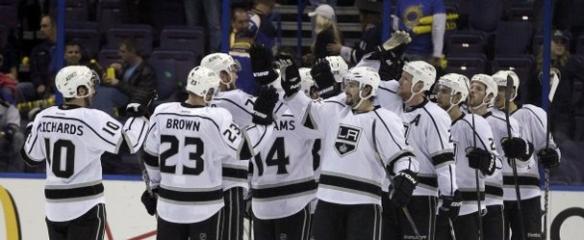 NHL Eastern Conference Semfinals: Now a Best of Five
After taking game one by a 3-1 count, the New York Rangers gave up home ice advantage with 3-2 loss to the Washington Capitals on Monday. The games being close and low scoring are the betting trends in this series. The way the goaltenders are playing, along with the tight checking nature of these contests, makes those betting trends that will continue.
In the other series, the New Jersey Devils also stole home ice advantage as they beat the Flyers by a 4-1 count in Philadelphia on Tuesday night. That follows a Flyers Game One 4-3 OT win back on Sunday. With the suspect defense in Philly, to go along with all their firepower on offense, we will be looking to the OVER betting trend for the remainder of this series.
NHL Western Conference Semifinals: Kings and Coy0tes Pitching Shutouts
Over in the West, the Los Angeles Kings and the Phoenix Coyotes are pitching shutouts as they both own 2-0 series leads over the St. Louis Blues and Nashville Predators respectively. Out of these two series, St, Louis is the team singing the Blues the loudest. That's because the Kings won both games on enemy turf and the series will now shift back to the Staples Center.
Nashville, also in a 2-0 hole, can take comfort in the fact that they get out of what has become a crazy Jobing.com Arena in Glendale and will be able to regroup as the series shifts to the Predators home ice at the Bridgestone Arena. We don't see the goals that were plentiful in the desert (15 in two games) continuing in Nashville. We will also take pucks the rest of the way.
National Hockey League and National Basketball Association playoffs, along with action from the Major Leagues of Baseball are in full swing and available for wagering at our recommended online sportsbooks. Register in mere minutes to get in on the thrilling action!