NFL Week 9 Pittsburgh Steelers vs NY Giants Betting Lines
As life slowly returns to some semblance of normalcy after super storm Sandy blasted the US east coast, the National Football League will provide the people in the New York and New Jersey areas with an escape on Sunday. Metlife Stadium, in East Rutherford, NJ, hosts the NY Giants vs Pittsburgh Steelers NFC vs AFC battle at 4:25 PM ET on November 4, 2012.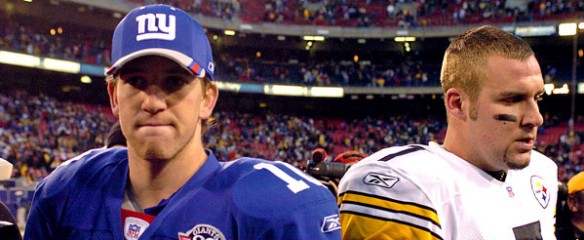 New York Giants: Super Bowl Champions lead NFC East
After a couple of early season stumbles, New York has reeled off four straight wins and they have a three game cushion in the NFC East Division title chase. While the last two G-Men victories haven't been pretty, they are wins none the less. Giants QB Eli Manning is having another Pro Bowl season and he gets a somewhat suspect Steelers defense today.
Pittsburgh Steelers: Back in AFC North title chase with two straight wins
Pittsburgh QB Ben Roethlisberger is also having a Pro Bowl type season and he to gets a shaky defense here. Abandoning their typical ground and pound style of play, the Steelers have the #7 rated passing attack in the NFL. With injury concerns in their backfield, we expect plenty of passing from the Steelers offense in this battle of two model NFL franchises.
Advantage Sports Betting Steelers vs Giants betting lines and handicapping call
While the Giants are living in the mess Sandy left behind, the Steelers will fly into New York on Sunday morning because the hotel they had booked for Saturday night is in disarray and still without power. The G-Men will be motivated with a "Win one for the Gipper" type attitude while the Sunday morning travel could prove to be very disruptive for the Steel City Crew.
Checking in at the williamhill.com online sportsbook, we find New York as -3 (-120) home chalk on the point spread and -175 on the money line. Pittsburgh are road underdogs at +155 straight up and the Over/Under has been posted at a lofty 47.5 points. These odds aren't fitting for the Super Bowl Champs so we'll lay the points with a 10% bankroll bet at William Hill.