NFL Week 6 MNF: Jets vs Dolphins in Losing Streak Limbo
With only one win between the two teams in the past seven games, and some interesting mid-week media attention, Monday Night Football's Week 6 instalment offers excitement between the New York Jets and the Miami Dolphins in intense AFC East rivalry action.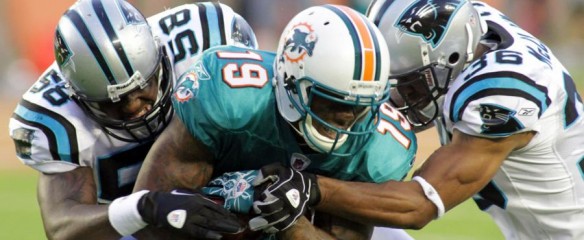 Travelling Dolphins Need Fully Focused Squad
Currently winless alongside the Colts and Rams, Miami will use QB Matt Moore at the helm Monday night in an attempt to avoid a serious tailspin and their second 0-5 start in five seasons.
Where a sense of team unity and focus would normally help the cause, Wide Receiver Brandon Marshall piled on extra pressure by causing a fracture in team cohesion stating his goal for the game is to get kicked out in the second quarter perhaps by fighting opponents Antonio Cromartie or Bart Scott. This wouldn't help a team that sits in the bottom 5 of the league for points scored, allowed, passing and overall defense.
Jets' Holmes Knocks his O-Line Once More
The disharmony in the Jets camp is similar to that of Miami's, except the tension is self-induced. The near-desperate situation at Metlife Stadium was again enhanced when during the week Wide receiver Santonio Holmes publically called out his offensive line for the second time in two weeks for not giving QB Mark Sanchez enough time to work.
The comments were acknowledged by Guard Brandon Moore as having a 'fragmenting effect' on the locker room. Coach Ryan needs that effect to wear off fast, because after giving up a season-high 446 yards to the Patriots last week, some points on the board will be the only help to the lowly Jets ground defense.