NFL Week 10 News: AFC Playoff Picture Still Cloudy
Heading into Week 10 of the NFL 2011 season, the AFC playoff picture was as clear as mud. Following a weekend where the beat downs over shadowed the competitive contests, the three AFC divisional ties were broken. The Patriots, Texans, Steelers, and Raiders are the leaders. The AFC Wild Card playoff race has eight teams within two games of each other.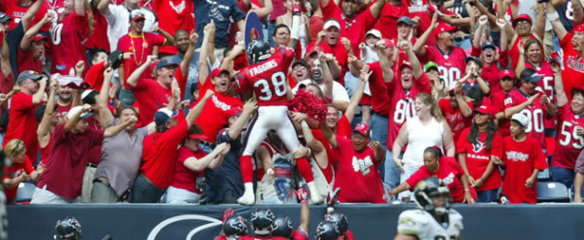 With the Green Bay Packers vs. Minnesota Vikings Monday Night Football game still to be played, the top six teams in the NFC have a combined 41-13 record. Over in the AFC, the top six is somewhat closer as they own a 37-19 combined record.
American Football Conference: All Ties Are Broken
Heading into NFL Week 10 action, three of the four AFC Divisions were tied at the top. After the Patriots dismantled the Jets by a 37-16 count, and Bills were bashed 44-7 by the Cowboys, New England owns the top spot in the AFC East.
Pittsburgh heads into their Bye Week as the leader in the AFC North after they beat the Bengals 24-17 in Cincinnati. Baltimore traveled cross country to Seattle, where the Seahawks hung on for a 22-17 win over the Ravens.
Texans Rule AFC South – Raiders Tops In The Wacky West
Both Houston (7-3) and Tennessee (5-4) were AFC South winners on Sunday. The Texans throttled the Bucanneers 37-9 in Tampa Bay, while the Titans trashed the Panthers 30-3 in Carolina. Houston is on their Bye in Week 11 which gives the Titans a chance to get within a game of the AFC South lead.
Oakland had crept into the top spot in the AFC West, with a half game lead, after their 24-17 win over the Chargers on Thursday. The Raiders then watched the Broncos roll in to Arrowhead Stadium and upend the Chiefs 17-10 leaving the Silver and Black alone in first.