NFL 2011 Update: Week 16 Playoff Scenarios
NFL Week 16 is just hours from kickoff as the Houston Texans are set to face the Indianapolis Colts. In a reversal of fortunes, the Texans are the team trying to secure their playoff positioning – not the Colts. 14 of the 16 contests have playoff implications this weekend!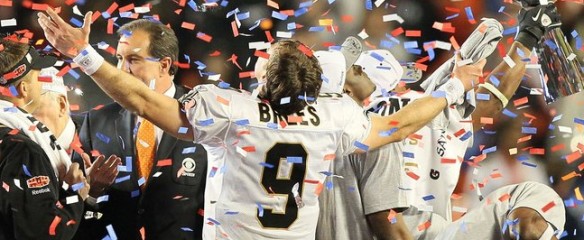 Apart from the Washington Redskins hosting the Minnesota Vikings, and the Tampa Bay Buccanners visiting the Carolina Panthers, every game on the Week 16 NFL schedule will have a bearing on the NFL Playoff race. Some games will have a bigger impact than others!
NFL Playoff Scenarios: National Football Conference
Mathematically, there are still ten teams alive in the NFC playoff race and each of them is playing for something during Week 16 action. The Green Bay Packers can clinch NFC home field advantage, on the road to Super Bowl XLVI, with a win over arch rival Chicago Bears.
The New Orleans Saints and San Francisco 49ers are in a dead heat for the #2 seed in the NFC. Week 17 action will be needed to settle that race. Dallas holds the tiebreaker in the NFC East playoff chase over the New York Giants. The Cowboys will make it to the dance, should they win out. Atlanta and Detroit control the two NFC Wild Card positions.
The Seahawks, Bears, Giants, and Cardinals all need the Lions or Falcons to lose two straight games in order to grab a Wild Card berth. That's not going to happen!
American Football Conference: 2011 NFL Playoff Race
Things are somewhat clearer in the AFC as four of six playoff spots are already reserved. The New England Patriots and the Baltimore Ravens will clinch the top two seeds in the AFC if they win out. The Houston Texans and Pittsburgh Steelers have clinched playoff spots and both teams can still earn a first round bye – based on their results over the next two weeks.
Denver is one win away from clinching the AFC West as the Oakland Raiders and San Diego Chargers sit one game back. Cincinnati and New York are batting for the second AFC Wild Card spot. Both teams sit at 8-6 but the Jets own the tiebreaker based on the better win percentage in common games. We still prefer the Bengals chances of getting in. Tennessee is still mathematically alive but we see the Titans playoffs hopes as a pipe dream.
It's going to be an amazing Week 16 of NFL playoff style action! Let's get the balls in the air!