NFL News: Key Injuries Sink Teams While Dream Team Crashes
With the Indianapolis Colts having a 0-4 start, and the Philadelphia Eagles stumbling out of the gates with a 1-3 record, the standings landscape in the NFL is certainly different from what we are accustomed to as we reach the first quarter pole of the NFL 2011 season.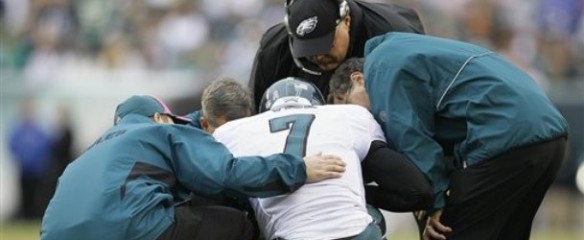 Surprise Losers: Key Injuries Have Sunk NFL Teams
No injury has been more talked about, or had a greater impact on a team, than the neck injury, and subsequent surgeries, QB Peyton Manning has dealt with. Though they have been scrappy the last two weeks, the Colts are lost without their eventual Hall of Fame leader and their season is over.
Though we were not expecting all that much out of Kansas City this season, the loss of Chiefs running back Jamaal Charles has left them at 1-3 through four games. They can start looking  forward to the 2012 NFL Draft and next season as well.
Being Over-Hyped And Arrogant Has Sunk Another NFL Team
What was once bragged about as being a "Dream Team" has turned into a nightmare as the Philadelphia Eagles are 1-3 and sit last in the NFC East. Even worse, they can't pass protect, MDKV can't read a blitz, they can't defend against the run, and they sit 13th overall in the NFC playoff race. Ouch!
After high preseason expectations, Philadelphia has a tough road to travel if they hope to make the NFL 2011 playoffs. We weren't about to the drink the Eagle Green Kool-Aid in August, we certainly won't start now.