NFL Commissioner Goddell Sledgehammers The Saints
Once the darlings of the National Football League, after the Katrina Hurricane tragedy, the New Orleans Saints are in NFL Commissioner Roger Goddell's doghouse due to major rule violations by the club. The force of the blow sent shock waves across the league. How this will play out – from an NFL 2012 handicapping standpoint, is anyone's guess at this point.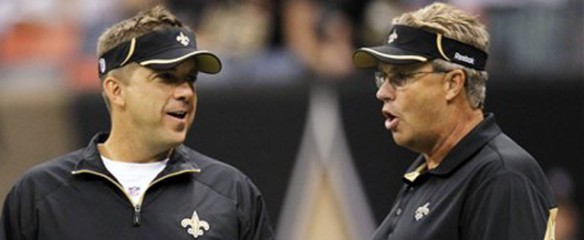 National Football League Suspension Measuring Stick
In a stunning and unprecedented action, the National Football League has imposed fines and suspensions on the New Orleans Saints – the likes of which have not been seen since 1963.
Back then, Alex Karris an All-Pro defensive tackle for the Detroit Lions, and Paul Horung a running back for the Green Bay Packers and the 1961 NFL MVP, were suspended for gambling on the sport they were playing. Both players received a one year suspension from then NFL Commissioner the late great Pete Rozelle.
Super Bowl XLIV Hero's Now Exposed As Villains
While those events back in 1963 were major integrity issues, the Saints have seen the sledgehammer come down for player conduct and safety issues. The Saints are also getting hammered because they lied to the NFL who investigated the alleged head hunting bounty payment system within the New Orleans organization. The bounties, posted by New Orleans management and players, were paid to players who laid out their opponents during the Saints Super Bowl XLIV run and continued after the allegations were investigated back in 2010.
Major Suspensions Leave The Saints Twisting In The Wind
Head Coach and offensive play caller Sean Payton has taken the brunt of the blow as he was handed a one year suspension without pay. Former Saints defensive coach Gregg Williams, who was reportedly going to join the St. Louis Rams, has been suspended indefinitely. New Orleans GM Mickey Loomis (eight games/$500K) and assistant head coach Joe Vitt (six games/$100K) were both suspended and fined  as well.
New Orleans was also handed a team fine of  $500,000 and will forfeit their second round draft selections in both the 2012 and 2013 NFL Drafts. While we are positive that coach Peyton's fingerprints will be all over the team from the shadows, NFL handicappers will need to be cautious when saddling up with the Saints during the 2012 National Football League season!