NFL 2012 Free Agent Market: Time For A Game Of Tag
It's action like this that makes the National Football League a 24/7 365 days a year juggernaut. Free Agent tagging season opens in less than 14 hours and there are some huge talents that teams don't want hitting the open range. Get your pop corn ready, it'll be entertaining.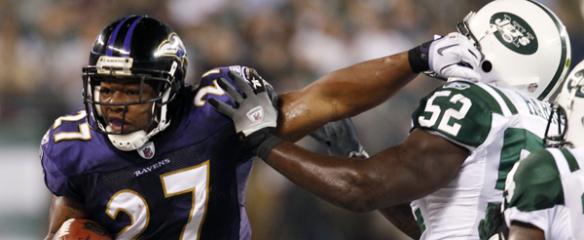 Though it seems somewhat confusing, the NFL term "franchise tag" is meant to protect the owners and, to a lessor degree, NFL players who are at or nearing free agent status. It helps the team retain the rights to the player, and facilitates further negotiation, while guaranteeing that the player gets fair market value – if only for one season.
Baltimore Ravens Looking to Purchase Some Rice
The best example Ray Rice who is expected to be tagged by the Baltimore Ravens when the process beings on February 20, and runs through to March 5, 2012. Though the numbers aren't carved in stone, if the Purple Birds tag Rice, and can't negotiate a new long term deal with him, Baltimore will have to pay him close to $8 million in 2012.
That's a huge chunk of cash, a monster pay raise from the $830K Rice earned in 2011, and on par with a player like Adrian Peterson from the Vikings who will make $8M in 2012. For his part, Rice will be looking for money similar to the $55.26M the Titans gave RB Chris Johnson in 2011.
Prime Time Players Headline the NFL 2012 Tag Game
Other notable players playing a contract chess game with their General Manager include Packers TE Jermichael Finley, Bears RB Matt Forte, Saints QB Drew Brees, and Eagles troubled – though talented, wide receiver DeSean Jackson.
In Finley's case, Green bay isn't sure what the would be getting if they signed their young TE to a long term deal. Finley burst on the scene in 2010 but fizzled with 11 dropped passes in 2012 – that was the third most in the league.
Expect the Saints to work out a deal with Brees, who is the face of their franchise, to avoid tagging him. That would allow New Orleans to use the tag on one of any of their other eight plus free agents – possibly Carl Nicks, the guy who protects Bress at the Guard position.
We don't see Matt Forte running too far from Chicago as he is the linch-pin of their already somewhat anemic offense. He'll be tagged a Bear if a deal doesn't happen first.
Jackson is a talent, though a bit of a head case , who is on the outs with Eagles head coach Andy Reid. Unless he signs for a lot less than he wants, yet closer to what he deserves, look for DJ to get shipped out of Philadelphia via the trade – possibly to Arizona.