NFL 2012 College Draft Colts and Redskins Begin Rebuilding
One of the biggest weekends of the 2012 National Football League season is history as the NFL 2012 College Draft is now in the record books. What once was a one-day event, meant for NFL teams to stock up on talent they could train and mold, has become a full weekend party and the college players selected are often expected to step up and contribute immediately.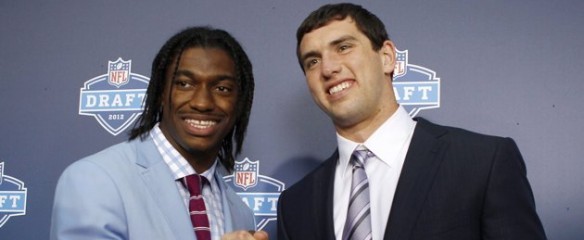 Indianapolis Colts Hoping Luck Is On Their Side
Much like they did when they selected quarterback Peyton Manning in the first round of the 1998 NFL Draft, the Indianapolis Colts picked Stanford Cardinal QB Andrew Luck with the first selection in the 2012 NFL Draft. After a 2011 season that saw the Colts go 2-14 with Manning injured and out for the year, and having to listen to their fans chant "Suck For Luck" the rebuilding process has begun in Indianapolis. With a lot of Luck, the process may be speedy.
Washington Redskins Draft Perspective Franchise Quarterback
After trading up to get the second overall pick in the 2012 NFL Draft, the Washington Redskins drafted Baylor Bears quarterback Robert Griffin III with the hope of restoring some pride in the Nation's Capital. It can be argued that the Redskins have not had a viable QB under center since Joe Theisman retired back in 1985. In the 26 seasons since, Washington has employed 14 different quarterbacks. Here's hoping that RGIII can help restore the Redskins roar.
While only time will tell if these two superstar NCAA college quarterbacks can step up to the fast paced action of the National Football League, we are of the opinion that both clubs did what they had to do to. The 2012 NFL season in now just a little over four months away and we can't wait for the betting action to begin. NFL wagering fans who can't wait for the new season should check out the futures betting options available at our top rated online sportsbooks.