NFL 2011 National Football Conference West Division Preview
The weakest division is football takes center stage as we preview the NFC West to wrap up our look at the NFL 2011 National Football Conference. The Seahawks, Rams, Cardinals, and 49ers all had sub .500 records in 2010 and three of the four will have repeat performances in 2011.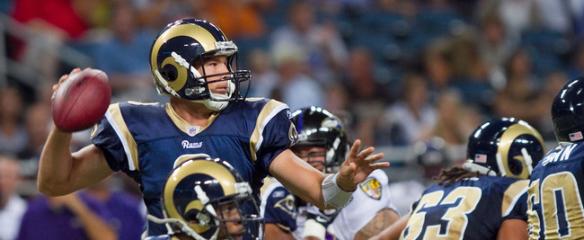 We close out our look at the NFL 2011 National Football Conference with a gander at the NFC West Division today. This was the worst division in football last season and we don't see that changing much in 2011. The Seattle Seahawks won the NFC West last season, basically by default, with a 7-9 record as they edged out the upstart St. Louis Rams in a tie-breaker.
NFC West Division: Rams On The Rise
Backed by second year starting QB Sam Bradford, the St. Louis Rams are a team on the rise in the NFC West. Bradford started all 16 games in his rookie season and, despite a lack of talent around him, he showed he belongs in the NFL. If the Rams can get some production out of their mediocre receiving core, and RB Steven Jackson can stay healthy, the Rams should cruise to the NFC West Title this season.
Things are looking up some in San Francisco as the 49ers just locked in star RB Frank Gore with a three-year contract extension that is said to be worth a maximum of $21 million and runs through 2014. While that is good news for 49ers fans, San Francisco is still without a viable starting QB as we don't see Alex Smith, or rookie Colin Kaepernick, as the answer. It could be another long season in the Bay area.
Despite making the 2010 NFL playoffs, and then upsetting the New Orleans Saints on Wild Card Weekend, the Seattle Seahawks still suck. There were plenty of changes in Seattle during the offseason but there are way more questions than answers in the Inland Northwest. If it wasn't for newly named CenturyLink Field, the best home field advantage in the NFL, we would have the Seahawks as the NFC West cellar dwellers this season.
Speaking of long seasons, the sun may shine bright all winter in Arizona but we can't say the same for the Cardinals. The Red Birds are in the midst of a major rebuilding process and will turn to QB Kevin Kolb to lead them during the NFL 2011 season. While we respect Kolb, as a decent starting quarterback, the lack of a running game will ground the Cardinals in 2011.
NFL 2011 – NFC West Predicted Order Of Finish
St. Louis Rams
San Francisco 49ers
Seattle Seahawks
Arizona Cardinals
>>> Bet On The 2011 NFC West Champions At TopBet.com <<<