NFL 2011 National Football Conference: South Division Preview
Today we preview the NFL 2011 National Football Conference South Division and what appears to be a three horse race for the Championship. The NFC South was the only division that had three teams with double digit wins last season and the battle will be heated again during the NFL 2011 season. This is the toughest division to pick the eventual Champion from.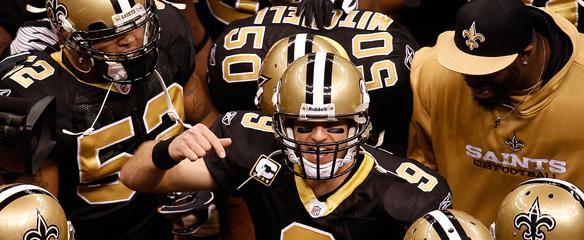 NFL 2011 National Football Conference South Division Preview: The most thrilling divisional race came out of the NFC South last season as the Atlanta Falcons (13-3) edged out the New Orleans Saints (11-5) and the Tampa Bay Buccaneers (10-6) for the title. The lowly Carolina Panthers (2-14) brought up the rear and they look to be in the same boat again this season.
NFC South Division: Star Power Dominated
A year after their spectacular Super Bowl XLIV victory the Saints stumbled a bit during NFL 2010. It was a season of ups and downs that culminated in a loss to the Seattle Seahawks in the NFC Wild Card game. New Orleans has retooled and we like them to reclaim the NFC South title.
Atlanta had been knocking on the door for a couple years and they finally kicked it down last season. The emergence of QB Matt Ryan and WR Roddy White powered the Falcons to the NFC South title. If they plan to repeat, they will need a strong and healthy season out of RB Michael Turner.
Tampa Bay went from 3-13 in 2009 to 10-6 last season and appear to be a team on the rise. Dynamic QB Josh Freeman ignited the Buccaneers offense in 2010 but no league in the world adjusts better than NFL. It will be interesting full second season for Freeman and the young Bucs.
We have already mentioned the Cincinnati Bengals and Washington Redskins as "challengers" for the worst record in the league this season and you can throw the Carolina Panthers into the mix here as well. Another year of "rebuilding" means the Panthers will be hard pressed to improve on their 2-14 NFL 2010 record.
NFL 2011 – NFC South Predicted Order Of Finish
New Orleans Saints
Atlanta Falcons
Tampa Bay Buccaneers
Carolina Panthers
>>> Bet On The 2011 NFC South Champions At JustBet <<<